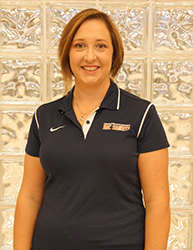 Associate Director of Marketing
mfadler@shsu.edu
(936) 294-3658
Hometown:

Platte City, Missouri

Education/Experience:

Bachelor of Science - Exercise Science, Truman State University

Master of Science - Recreation and Sport Management, Purdue University

Graduate Assistant for Aquatics, Purdue University

Aquatics Director - JCC of St. Louis

Assistant Director - Aquatics and Shared Facilities, Washington State University

Personal:

Melissa enjoys all things pop culture, and is quickly becoming a social media and interactive marketing junkie. She still maintains her American Red Cross certifications and enjoys teaching when she can. Melissa has found a new passion in running, and still likes to swim and play volleyball. She and her partner, Matt enjoy reading, traveling and going to concerts.

Recreational Sports | Jump in. Play hard.