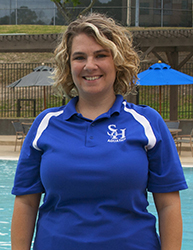 Assistant Director of Aquatics and Safety
sburroughs@shsu.edu
936-294-4071

Hometown:

Brenham, TX

Education/Experience:

A.A. of Social Sciences, Blinn College
B.S. of Psychology with minor in 3-Deminsional Art, SHSU

Has been in the field of Aquatics for 12 years

Personal:

I am a Texas girl 100%. I enjoy photography and being active outdoors. I recently got married to my wonderful husband, Ben, who is also a SHSU grad. We love spending time with friends and family as much as we can.

Recreational Sports | Jump in. Play hard.