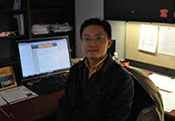 "I had two journal articles published as a direct result of having the time to focus solely on my research."
Dr. Lei Chen, SHSU Assistant Professor and 2009 Faculty Research Grant recipient
The Office of Research and Sponsored Programs welcomes research proposals with unique and original scholarly value from all academic disciplines. You may apply for only one grant under the Internal Grant Program per year, and you may only receive one grant per research project. All deadlines are strictly enforced; for this reason, we recommend that you read the FRG guidelines and ERG guidelines carefully, and that you hand-deliver all grant application materials to the Office of Research and Sponsored Programs.
Internal Grant Program Application Walkthroughs