WHAT IS A TRADEMARK?
A trademark is a word, phrase, symbol or design, or a combination thereof, that identifies and distinguishes the source of the goods of one party from those of others.
SAM HOUSTON STATE UNIVERSITY TRADEMARKED LOGOS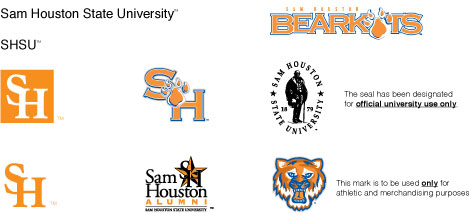 WHY REGISTER A TRADEMARK?
• Provides public notice of a claim of ownership of the mark
• Provides a legal presumption of your ownership of the mark and your exclusive right to use the mark on or in connection with the goods/services listed in the registration
• Allows the owner to legally protect the mark should infringement occur
USING UNIVERSITY TRADEMARKS
When claiming rights to use a mark, a "TM" designation is placed next to the symbol, word, phrase or design.
The "TM" is to be used with all designated University trademarks.
Any individual, group or agency external to the University must request permission to display the trademark from the Marketing & Communications department.
Any individual, group or agency external to the University that uses the trademark for profit or commerce must contact athletics for licensing.
UNIVERSITY SEAL
The Official University Seal (depiction of Sam Houston with his cane) is for formal use only, including use by Office of the President, and for invitations and other formal printed material, diplomas, certificates, award and recognition plaques, high-quality banners and flags used at formal occasions, such as convocations and commencements, and appropriate display within offices.
The Official University Seal will not be used on wearables, vehicles, stationary with the exception of the University President, newsletters, fliers, and post cards.
Sections 5.03 and 5.04 of the University Publications & Marketing Communications policy.