Remote Desktop Connection - Windows 7
Begin by using your Windows 7 start button. This will give you access to your programs listing.
Once clicked, your start button will display your programs. Your next step is to choose All Programs.
Scroll through your programs listing until you see your Accessories folder then open the folder by clicking it.
Remote Desktop will be in this folder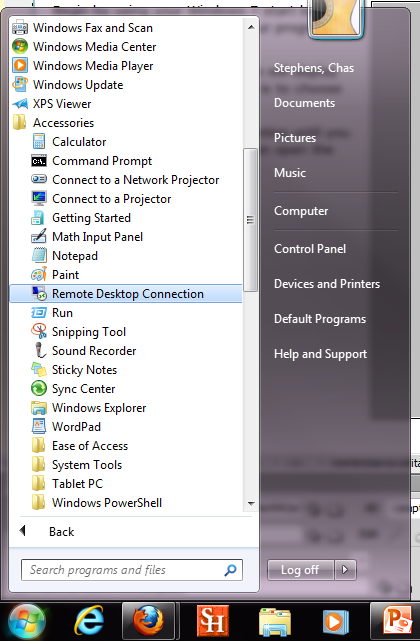 ---
When the Remote Desktop Connection dialogue box appears you can type in remote.shsu.edu and click Connect.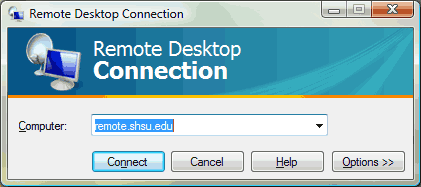 You should see the login screen.
Enter Your Username and Password and click OK
Be sure to put "shsu\" before your username and hit OK.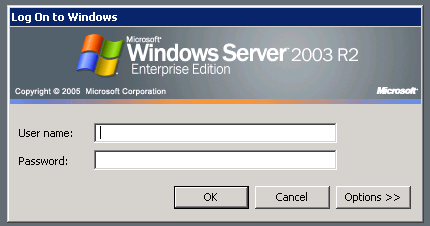 At this point, you will be connected to your roaming profile as if you were on campus.
---
Setting Remote Options
To gain access to printers and local drives you will need to access the Options button before login.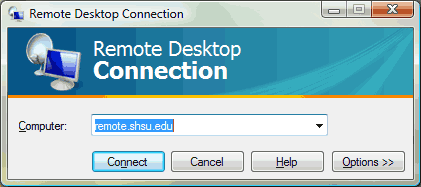 The Options button gives you access to selecting the availability of local resources, display settings, programs and more. For our purposes here we will stick to the Local Resources tab.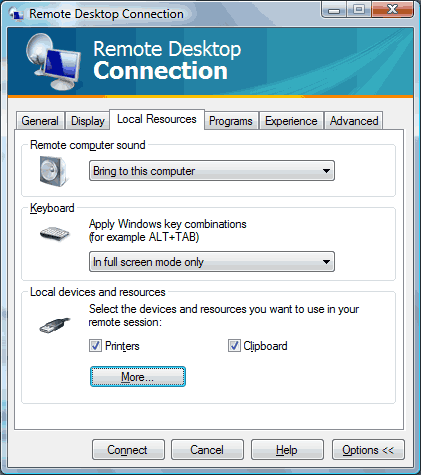 On the first screen you can choose to allow access for your printer and clipboard. Click the "More" button to move to our next step.
From this screen, you can select access for your local drives (Note these drives are located in the computer you are connecting from, and are not part of the SHSU computer network), smart cards, serial ports, as well as any Plug and Play devices you might need.
Click OK and Connect or Options to close the Options screen.
Note to Faculty/Staff: When connecting to your office computer, other local resources, such as C:/ drive or any CD-R/DVD drives will not be available for use. Remote.shsu.edu does not connect to your particular computer, but to an on-campus computer allowing you access to your profile.