IT@Sam - Technology Tutorials
Opening a Shared Calendar
If someone shares a calendar with you, you will get an email stating a calendar has been shared. You will need to "accept" the calendar to be able to view it.
To view the calendar, select Calendar from the tabs at the top right hand side of the Outlook Web App.

Once a calendar is accepted as Shared, it will be viewable in the Calendar pane.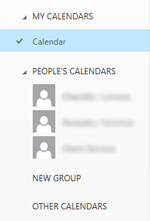 Select one of the calendars and the calendar will appear in the right portion of the screen.