IT@Sam - Technology Tutorials
TouchNet
---
Edit Store Settings
General. General store information fields to complete, as determined by your department/store/event policy, may include:
Store Name (For internal purposes.)
Store Display Name (Displayed online in SHSU Mall.)
Return Policy (This is a required acknowledgement for the Buyer at checkout.)
Special Announcement for Ustores (This is the display message on the store's home page.)
Email Thank You Statement
Email Order Announcement
Email Fulfillment Announcement
Email Cancel Order Announcement
Email Refund Order Announcement (This is not needed as refunds are NOT processed through Marketplace.)
Store Home Page Layout (Two options – user preference.)
Allow Partial Refunds (Select No)
Allow Refunding of Shipping (Select No)
Allow Recurring Payments on Donation Product Type
Note: Any product type of "donation" MUST BE approved by the Bursars Office and Accounting prior to making that product available. While the product type does not necessarily denote the actual product (as it can be used in ways other than as a donation specifically), in order to reduce any confusion, using this type of payment must be approved in advance.
Perform General Ledger Updates (Select Yes)
Cashier ID (Enter the Merchant Manager's user name.)
Default Accounting Code (Select detail codes as provided by the Bursars Office.)
Time Zone (This will need to be set if you plan to use any auto start/stop times.)
E-mail addresses to notify when donations are made (Note limited space.)
Marketplace Store Category Assignments (Optional.)
Select Save. This is very important!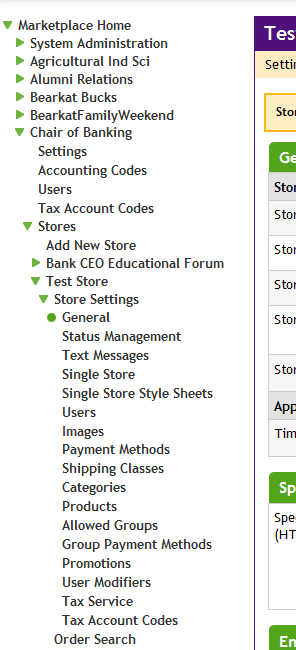 Text Messaging, Single Store, and Single Store Style Sheets are not used at this time.
Users. Assign roles to users within the system for your store. New users must be added administratively, or you will receive multiple error codes when trying to process. Please submit a work order for new users to be added to or deleted from the system. Refer to the list of roles in Appendix B for more information.
Images. Upload a Side Banner for your store. This image displays on your store home page. Images for individual products are added individually at the Products level.
Payment Methods. Select which payment methods your store will accept. Currently, webCheck (ACH) and credit card are acceptable methods of payment. Stores may accept all credit cards or none, even though you do have the option of selecting only certain cards.

Note: The department will absorb the cost of credit card payments and returned e-check fees. The FOAP to which these fees are assessed is collected prior to the store creation.
Shipping Classes. These are fully customizable fields; however, set up of at least one Shipping Class is required before you can create (add) a product to a store. You can establish multiple shipping classes and rates. For example, you may set up a No Shipping class for online registration with no deliverable product as well as both Regular Delivery and Expedited Delivery product shipping classes for tangible products, with appropriate charges.
Categories. These are also fully customizable fields, depending on your product(s). For stores with minimal products, this is not necessary and adds a layer of discovery to shoppers.
Products. (See the Adding & Editing Products section for details.)
Allowed Groups are not used at this time. (Please check with your assigned IT resource if you would like to implement this option.)
Last Modified: 4/20/2012 10:40 AM DRAFT Page 10 of 17
Group Payment Methods are also not used at this time. (Please check with your assigned IT resource if you would like to implement this option.)
Promotions. Promotional discounts can be given on entire stores, specific products, or specific categories of items. You will need to set up the promotion and provide it to the appropriate customers.

Note: The store owner assumes the rick of any promotional discounts shared outside of the expected range of activity.
User Modifiers. This is where you can collect information about the specific buyer. For information about specific products, you can use Required Selection and Text Entry fields to collect desired required data. Optional Selection and Text Entry boxes are also available.

Note: For reporting purposes, it is strongly recommended that you utilize Required Fields for as much information as possible, or utilize Required fields first, and Optional fields at the end. Otherwise, fields in the downloaded reports (Excel format) may not line up.
Tax Account Codes. Utilize the tax account codes as provided – do not override.