IT@Sam - Technology Tutorials
Microsoft Lync 2013
---
Schedule an online meeting or conference call by using the Online Meeting Add-in for Microsoft Lync 2013 communications software or by selecting contacts in Microsoft Lync 2013.
To create an online meeting or conference call meeting request, follow these steps:
Do one of the following: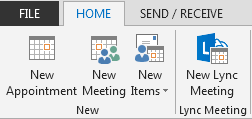 In the Microsoft Outlook Calendar, click New
Lync Meeting (in Microsoft Outlook 2013).
---
In the meeting request, in the To box, type the email address of each person you want to invite, separated by semicolons.
---
In the Subject box, type a subject for the meeting.
---
(Optional) In the body of the meeting request, above the Join Online Meeting link, type additional meeting details.

Note: Do not modify any of the existing text in the meeting request. Doing so may prevent people from joining the meeting.
---
(Optional) On the Meeting tab, in the Show group, click Scheduling Assistant. Use the Scheduling Assistant to ensure that everyone is available during the time you choose.