Create a Desktop Folder
---

Creating a Desktop folder to save files.
Saving files to this location will not increase the size of your SHSU profile.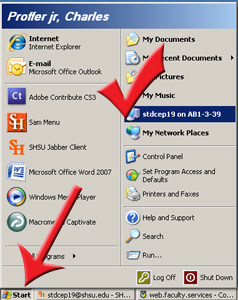 Go to the Start menu and then select Your Username on Your Node (My Computer on non-networked machines)
---
Select Either Network Drive (S:) or (T:)
Choose the S drive if the data that you are storing is under 1 GB. (1000 MB). Choose T drive if the data you are storing is 1 GB or above, or if it needs to be accessed by additional users.
Select File > New > Folder
Name the Folder with your USERNAME

Right-click on the Desktop Folder and then select Create Shortcut
Now you can drag that folder's Shortcut to your Desktop and save any files that you need into this folder.
You now have a Desktop Folder on the Desktop that will not interfere with the size of your SHSU profile.