IT@Sam - Technology Tutorials
Cisco IP Phones: 7941 Basic Phone Overview
---
7941 Basic Phone Overview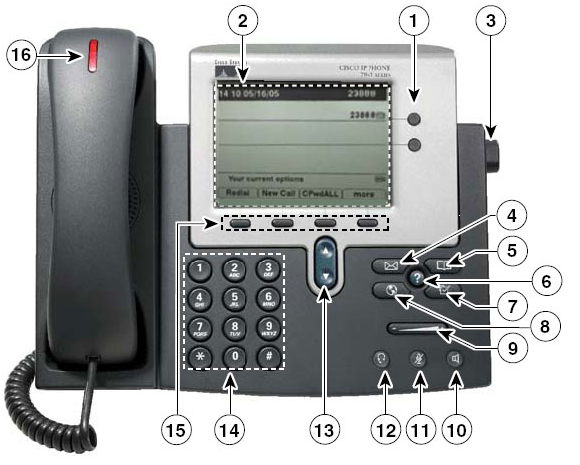 | | | |
| --- | --- | --- |
| | Button/Hardware | Description |
| 1 | Programmable Buttons | Depending on configuration, programmable buttons provide access to: Phone lines (line buttons) " Speed-dial numbers (speed-dial buttons) " Web-based services |
| 2 | Phone Screen | Shows phone features such as time, date, phone number and current options. |
| 3 | Footstand Button | Allows you to adjust the angle of the phone base. |
| 4 | Messages Button | Typically auto-dials your voice message service so you only need to enter your password. |
| 5 | Directories Button | Opens/closes the Directories menu. Used to access call logs and corporate directories. Provides access to your missed, received, and placed calls. You can use each of these directories to locate or dial these numbers |
| 6 | Help Button | Activates the Help menu. |
| 7 | Settings Button | Opens/closes the Settings menu. Provides access to phone settings such as LCD screen contrast, ring sounds, network configuration, and status information. Use it to control phone screen contrast and ring sounds. |
| 8 | Services Button | Opens/closes the Services menu. Provides access to available phone services that have been implemented. These may include Fast Dials and Extension Mobility login/logout screens. |
| 9 | Volume Button | Controls the volume settings for the handset, headphones, and speaker options. |
| 10 | Speaker Button | Toggles the speakerphone on or off. When the speakerphone is on, the button is lit. |
| 11 | Mute Button | Toggles the Mute feature on or off. When Mute is on, the button is lit. |
| 12 | Headset Button | Toggles the headset on or off. When the headset is on, the button is lit. |
| 13 | Navigation Button | Allows you to scroll through menus and highlight items. Use in conjunction with softkeys to activate highlighted items. |
| 14 | Keypad | Allows you to dial phone numbers, enter letters, and choose menu items. |
| 15 | Softkey Buttons | Each button activates a softkey option (displayed on your phone screen). |
| 16 | Handset Light Strip | Indicates an incoming call or new voice message. |
Using Help on Your Phone

Use any of these methods to access online help from your phone:
Press the Help button once, and press any key to display information about that button or key.
Press the Help button twice quickly during an active call to view the network statistics on that call.

Choosing a Menu Item

After selecting one of the Information Feature buttons, which include Messages, Directories, Services, or Settings buttons, you can choose menu items that appear on your LCD screen in numerous ways:
Press the Navigation button to highlight the menu item and then the Select softkey to choose the item.
Press the number key on your phone's dial pad that corresponds to the number of the item displayed on your LCD
screen.