IT@Sam - Technology Tutorials
Acrobat: Navigating a Form
Technology Tutorials | Acrobat | Navigating Forms
---
Portable Document Format (PDF) is a format that provides an electronic image of text or text and graphics that looks like a printed document and can be viewed, printed, and electronically transmitted.
Here is how you navigate a PDF.
Toolbar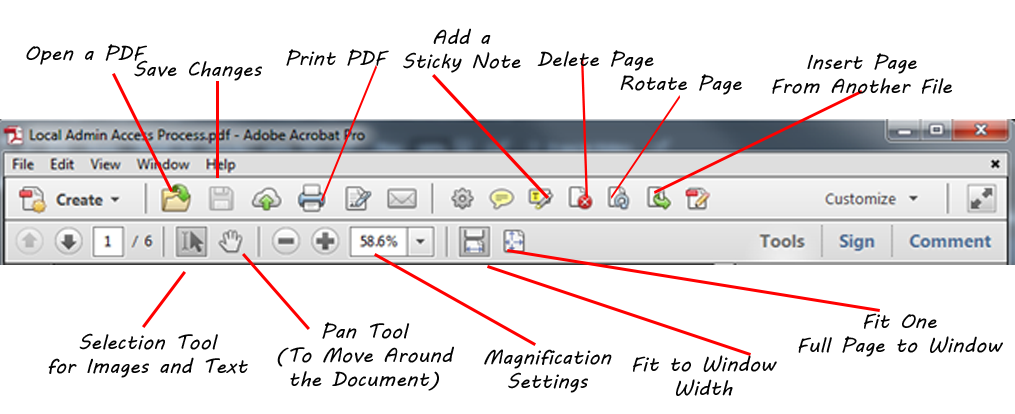 Open a PDF: Documents with the .pdf extension are, by default, opened with Adobe Acrobat. If you have a PDF somewhere, click the folder button to access your file. You can also go to: File > Open.
Save Changes: If you make any changes to a PDF, you can save them by clicking the diskette icon or by going to File > Save.
Print PDF: Click the printer icon to print your PDF or go to File > Print.
Add a Sticky Note: Sticky notes are like comments, you can add them anywhere in the PDF so that when someone else opens the file they can see any ideas or corrections that need to be made.
Delete Page: Press this button to delete a page from the current PDF.
Rotate Page: This button allows you to rotate your page 90 degrees or 180 degrees.
Insert Page from Another File: If you have a page you would like to insert from another file you can open it from this button.
Selection Tool: Use the selection tool to select text or photos within the PDF.
Pan Tool: Use the Pan Tool to move around the PDF. This is especially useful if you are zoomed in.
Magnification: Use the magnification settings to zoom in or zoom out.
Fit to Window Width: If you want your document to take up the entire width of the window, select this option.
Fit One Full Page: If you want the entire document to fit on one page, select this option.