IT@Sam - Technology Tutorials
Microsoft Outlook - Sharing a Shared Calendar
SHSU Technology Tutorials | Microsoft Outlook
---
If you are looking to share a shared calendar, you will need to change your permissions for the shared calendar. Simply follow these steps.
Click on the Calendar tab on the panel at the bottom left of the screen.
---
If you have access to multiple calendars, select the calendar that you wish to share.

---
On the toolbar, select the "Calendar Permissions" option.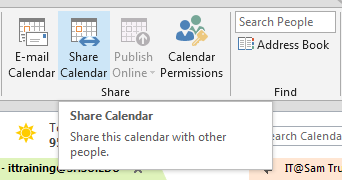 ---
On the next page, click on the Permissions tab on the top.
You can see all the people that have some sort of view access to your calendar. You can edit their options by selecting their name.
Once you have changed the setting for the shared calendar you can share it with others.