IT@Sam - Technology Tutorials
Microsoft Lync 2013
---
How to Get Started
Microsoft Lync should pop up automatically on your computer whenever you log in. However, if it does not, you can find it by:
Going to the Start Menu
Clicking All Programs
Go to Microsoft Office 2013
Click on Lync 2013

With the single sign on technology, Lync will automatically sync your SHSU credentials. All you have to do is put in your SHSU e-mail address. After this you are set to go!
To have Lync start up automatically when you log in:
open up the Lync options (Gear Symbol in top Right Corner)
Go to the Personal Tab
And check "Automatically start Lync when I log on to Windows"

---
&nbsp
Manual Features
With all of these automated features, it is important to remember that you still have control over Lync. Here are some of the things you will need to know to completely utilize Lync to its fullest capability.
Manually Set Your Status
Find your availability status located under your name
Click on that status message
A number of status message options will appear
You can even sign out from Lync here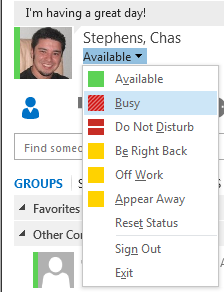 Find a Contact in Lync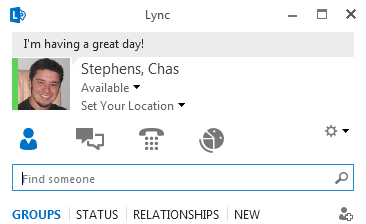 Type the name of the individual you are looking for in the "Find Someone" box
Click on the contact
A secondary box will open to start a chat
Ways to Contact an Individual

A number of options appear when you hover your mouse over a contact's image
Instant Message
Lync Call
Video Chat
View Contact Card
Other Options

Send E-mail Message
Schedule Meeting
Add to Favorites
Add to Contacts List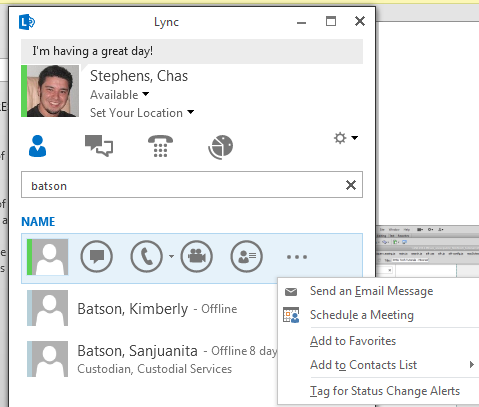 Share a Monitor

Microsoft Lync allows you to share your monitor with your contacts. You remain in complete control while your contact watches.

With a chat window open, you will see a number of options underneath the dialogue box. Once of these looks like a computer monitor. Clicking here will open up a number of options:
All Monitors
Primary Monitor
Secondary Monitor
Program
PowerPoint
Whiteboard
Poll
Select which monitor you want to share and that is that.