About SHSU's Study Abroad Programs
SHSU's Study Abroad Programs offer students the opportunity to engage in an educational and cultural learning experience. Students have the opportunity to study through one of our 21 exchange universities in 13 countries, study through an independent program, or register for faculty-led summer/winter break courses.
While abroad, students should be able to earn credit hours toward their degree. In addition, students who meet the requirements, may be eligible to receive study abroad scholarships.
CLICK
HERE
FOR HELPFUL TIPS FROM RETURNING STUDY ABROAD STUDENTS.
Another Helpful Resource for Students & Parents is "The Study Abroad Decision:" An in-depth resource exploring the reasons to study abroad, the best ways to to plan and experience your trip and the trends and economics behind today's most popular abroad programs.
---
Steps to Studying Abroad
NOTE: For students planning to participate in a faculty-led program, please refer to the faculty-led page for more information and application deadlines.
STEP 1:
Attend the Study Abroad Fair (TH 9/25/14 from 11-2 in the LSC Mall Area) and/or a Study Abroad Information Session in Farrington 101 (F 1/23 from 3-4 pm; T 1/27 from 4-5 pm; W 2/4 from 4-5 pm; TH 2/12 from 4-5 pm ) to get basic questions answered and learn about the options for studying abroad through SHSU.
Also consider joining the Global Ambassadors Program where domestic students are paired with international students.
STEP 2:
Meet one-on-one with the Study Abroad Coordinator to determine your specific plan of action, especially regarding which program you will apply for, what classes you will take, and how you will pay for the program. Apply for a passport if you don't already have one.
STEP 3 (for Exchange & Independent Programs):
Get the courses you will take abroad approved through SHSU's Department Chairs. You will turn in the Course Equivalency Form to the Study Abroad Coordinator.
STEP 4:
Apply to the program you have decided upon.
STEP 5 (for Exchange & Independent Programs):
Submit all the necessary SHSU Study Abroad documents to the Study Abroad Coordinator:
Additional Items:
Passport copy and, if required, copy of visa
Flight itinerary
Pre-Travel Assessment: It is highly recommended that 4-6 weeks before departure, all study abroad students submit the assessment form, along with immunization records, before scheduling an appointment with the Travel Nurse at the SHSU Health Center. This is free for students.
All study abroad students are required to get a physical done before departure. Turn in the Health Travel Release form to the Study Abroad Coordinator prior to departure. If students choose to see a physician at the SHSU Student Health Center, it is $22.
Check out the SHSU Student Health Center's website for more details.
STEP 6 (for Exchange & Independent Programs):
Once you have been accepted to the program/university and have received the necessary documents, apply for your visa (if necessary), register for courses at your university abroad, and apply for housing.
STEP 7:
Register in the SMART Traveler program through the U.S. State Department, and check for any travel warnings to your destination country.
STEP 8:
Depart!
*PLEASE NOTE:
All students who attend a study abroad program will be charged a $200 study abroad service fee.
---
Information for Parents
of Study Abroad Students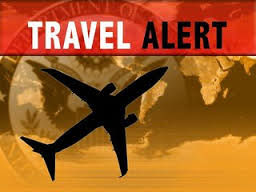 Traveling Abroad? Check Travel Alerts and Warnings:
http://travel.state.gov/content/passports/english/alertswarnings.html
Contact Us
Study Abroad

Jordan Land
Study Abroad Coordinator

jml084@shsu.edu
936.294.2746
F116E
---
Office of International Programs
Farrington Building, Suite 116, Huntsville, TX 77340
Phone: 936-294-4737