JOIN US FOR THE FALL 2016 STUDY ABROAD FAIR AT THE LSC MALL AREA ON 09/22/2016 FROM 11:00am-2:00pm!
About SHSU's Study Abroad Programs
SHSU's Study Abroad Programs offer students the opportunity to engage in an educational and cultural learning experience. Students have the opportunity to study at one of our Exchange universities, on an Affiliated Transfer Credit program, or an SHSU Faculty-Led summer/winter term program.
While abroad, students should be able to earn credit hours toward their degree. In addition, students who meet the requirements, may be eligible to receive study abroad scholarships.
CLICK
HERE
FOR HELPFUL TIPS FROM RETURNING STUDY ABROAD STUDENTS.
Another Helpful Resource for Students & Parents is "The Study Abroad Decision:" An in-depth resource exploring the reasons to study abroad, the best ways to to plan and experience your trip and the trends and economics behind today's most popular abroad programs.
---
Helpful Links for All Study Abroad Students
Interested in gaining intercultural competency before your program (or improving it afterwards)? Consider joining the Global Ambassadors Program which pairs domestic and international students for various organized activities throughout the semester.
Visas - These are documents typically issued in your passport by a foreign government prior to departure from the US that authorize you to be in a given country over a specified period of time. Most countries have varied processes for obtaining a visa, but travelers are often required to appear in person at the nearest Consulate/Embassy of the destination country, and to submit various identification documents in order to apply. You cannot apply for a visa without first possessing a passport. Adequate planning on your part is required to comply with all immigration laws of the host country!
Register in the SMART Traveler program through the U.S. State Department before departure, and check for any travel warnings to your destination country.

*SHSU will not approve any student travel to locations currently under US Dept. of State Travel Warning or locations that come under Travel Warning at any point in the study abroad process, including after the student has departed the US. Financial contingency plans should be made to compensate for any penalties incurred due to late program cancellation. Check the status of your proposed location below. No exceptions will be considered.
*PLEASE NOTE:
ALL study abroad students are charged a $200 study abroad service fee that is NOT included in the program fees. It is a separate charge and is in addition to the program fee. This fee is only assessed after course registration and before departure.
---
Information for Parents
of Study Abroad Students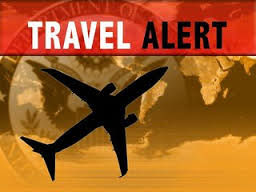 Traveling Abroad? Check Travel Alerts and Warnings:
http://travel.state.gov/content/passports/english/alertswarnings.html
Contact Us
Study Abroad

Jordan Land
Study Abroad Coordinator

jml084@shsu.edu
936.294.3276
F116E
---
Office of International Programs
Farrington Building, Suite 116, Huntsville, TX 77340
Phone: 936-294-4737