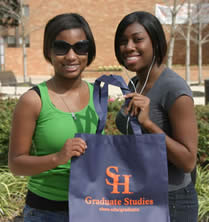 Graduate Studies Scholarship Nomination
The Office of Graduate Studies promotes the recruitment of high-quality students. To receive this scholarship, an SHSU faculty member, usually the program advisor, must submit the Scholarship Nomination Form. This scholarship provides each student with up to $1000 for their first semester of graduate school.
Graduate Studies Bridge Program
Deadline for Submission of Applications — May 15th, 2015
During the academic year selected, the Graduate Studies Bridge Program provides students an intensive training consisting of professional development, student academic success seminars, and mentoring experiences to strengthen the graduate school experience and facilitate a smooth adjustment to the academic rigor of graduate education. In addition, the program will also offer a series of workshops ("How to succeed in Graduate School") as well as other cultural and educational activities.
To apply, please submit the following Graduate Bridge Program Application to the Office of Graduate Studies