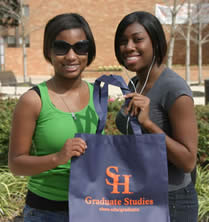 Graduate Studies Scholarship Nomination
The Office of Graduate Studies promotes the recruitment of high-quality students. To receive this scholarship, an SHSU faculty member, usually the program advisor, must submit the Scholarship Nomination Form. This scholarship provides each student with up to $1000 for their first semester of graduate school.
Graduate Studies Bridge Program
Deadline for Submission of Applications — Fall 2016 Deadlines coming soon!
During the academic year selected, the Graduate Studies Bridge Program provides students an intensive training consisting of professional development, student academic success seminars, and mentoring experiences to strengthen the graduate school experience and facilitate a smooth adjustment to the academic rigor of graduate education. In addition, the program will also offer a series of workshops ("How to succeed in Graduate School") as well as other cultural and educational activities. Bridge program contract.
To apply, please submit the following Graduate Bridge Program Application to the Office of Graduate Studies
Graduate Student Organization Leadership Initiative
The Graduate Student Leadership Initiative is a student scholarship program to promote graduate student engagement and leadership development. Research shows that leadership programs teach important life skills, such as introspection, cultural sensitivity, moral acuity, people skills, and decision-making acumen. Our student organization leadership initiative is a program collaboration between Academic Affairs and the Office of Graduate Studies, the Professional and the Academic Center for Excellence (PACE), and the Center for Leadership and Service. Students who hold executive level leadership positions in University and Department sanctioned student organizations are eligible to participate in this scholarship and leadership program. Students must be elected to the leadership cabinet of a sanctioned Graduate Student Organization, holding position titles such as President, Vice President, etc. Each participant who completes the Fall leadership training will receive a $500 scholarship and another $500 after completion of the Spring semester training.
Civic Engagement Policy Statement, Civic Engagement Volunteer Proposal Form, Service Hours Log