Pre-Law Learning Community
The Pre-Law Cohort at Sam Houston State University is a one-of-a-kind program for students interested in legal careers. The cohort allows like-minded students to explore opportunities in the legal field, participate in activities that provide information about law schools and law-related professions, and engage with legal professionals. Students in the pre-law cohort have the opportunity to take a Mock LSAT, attend seminars on graduate and law schools, participate in a Mock Law Class, and take field trips to law schools. With one of the largest groups of pre-law students in the country, SHSU's Pre-Law Cohort is a great way to get a head start on your law career!
Pictured right: Junior Fellows, Fall 2013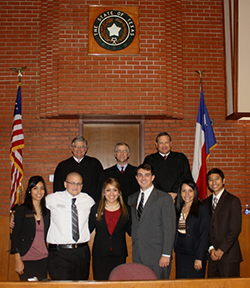 2013-2014 Courses
Fall Courses
CRN: 80224 PHIL 2306.01: Contemporary Moral Issues
CRN: 80279 PSYC 1301.01: Introduction to Psychology
CRN: 82474 UNIV 1301.77: Introduction to Collegiate Studies
Spring Courses
COMS 1361: Public Speaking
ECON 2301: Principles of Macroeconomics
POLS 2301: Principles of American Government - National and State
Already accepted to a Learning Community? Plan your schedule now.