Global Learning Community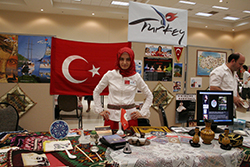 The Global Learning Community (GLC) brings together international and domestic students in a supportive environment that focuses on internationalization and cross-cultural awareness. Through a specialized curriculum in the UNIV 1301 course, GLC students will be exposed to cultures from across the world, and will develop a deeper understanding of their personal and societal culture and how that affects their presence in an increasingly globalized world and workplace.
Suggested majors: Communication Studies, Computing Science, International Business, Fashion Merchandising, History, Mass Communication, Philosophy
2013-2014 Courses
Fall Courses
ENGL 1301.73: Composition & Rhetoric I
SOCI 2319.02: Introduction to Ethnic Studies
UNIV 1301.73: Introduction to Collegiate Studies
Spring Courses
ENGL 1302: Composition & Rhetoric II
GEOG 1321: People, Place & the Environment
PHIL 2306: Contemporary Moral Issues
Already accepted to a Learning Community?
Plan your schedule now.