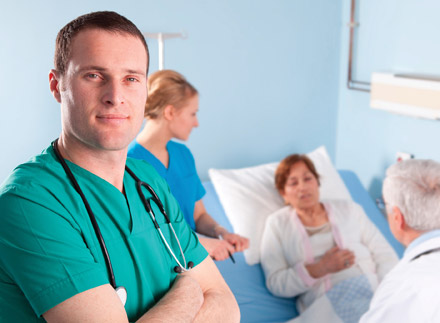 Proposed Doctor of Osteopathic Medicine Program
With preliminary approval from the Texas State University System Board of Regents, Sam Houston State University is growing our health sciences presence through the ongoing establishment of a Doctor of Osteopathic Medicine Program (DO Program). This exciting initiative will be the fulcrum for health care education at SHSU and a game changer for the university, the community and the state.
A strategically located area of land has been pledged for a Health Sciences Campus, and start-up funding is critical for both the facility and associated academic healthcare programs. Academic programming and construction must run concurrently in order to be fully operational at the time of opening. Start-up funding will be allocated to high priority needs.
Dr. Charles Henley has been appointed as the founding dean of the Proposed Sam Houston State University College of Osteopathic Medicine (applicant status – seeking accreditation), effective November 1, 2016. Dr. Henley has an extensive background as a senior administrator in medical schools and will be a strong leader in expanding health care education in the region and state. The proposed College is projected to host its first cohort of students in the fall of 2020.
Why is Osteopathic Medicine important?
Texas has about 43,000 physicians engaged in patient care for a population of approximately 23 million. This acute shortage of doctors is expected to worsen. Meanwhile, enrollment of approximately 5,400 undergraduate students and 6,000 resident physicians among the eight Texas medical schools has stayed relatively unchanged for over 25 years.
About 20% of medical students are training to be osteopathic physicians, of those, 60% choose to specialize in primary health care.
Osteopathic doctors are 2.5 times more likely to practice in rural areas.
Texas ranks 41st in active patient care physicians and 47th for primary care physicians (per 100,000 population). The state needs 12,819 additional doctors to meet the national average.
Thirty-five counties have no doctor at all and 80 counties have five or fewer.
Access to physician care is expected to erode with 45% of Texas doctors accelerating retirement plans, 19% cutting back hours, 9% switching to a concierge practice and over 6% planning to work part-time.
DOs are responsible for 16% of patient visits in communities with populations less than 2,500.
A Fresh & Original Approach to Healthcare Education
A significant impediment to meeting the demand for physicians is a shortage of residency training slots or Graduate Medical Education (GME). SHSU is working on solutions that address GME as well as creating an educational model that focuses on maximizing resources and results.
National Resident Matching Program 2015
Funds are available to support new teaching hospitals.
With over 20 hospitals located within a 20-mile radius, SHSU plans to partner with new teaching hospitals to support the clinical training of 150 students.
Infrastructure and support services will remain centralized, minimizing administrative costs.
Will maintain and nurture university's teacher-scholar philosophy.
The Founding Dean will work with President and Provost to implement optimal academic model.
Operational Start-Up Funding: $22 million
The start-up costs of $22 million cover program development expenses and operational losses. After applying tuition and fee revenue, the proposed College will achieve a break-even point or positive operating margin after the third year of enrollment.
Private support and tuition revenue will be utilized to cover start-up costs. Start-up funding does not include building construction costs, which are estimated at an additional $50 million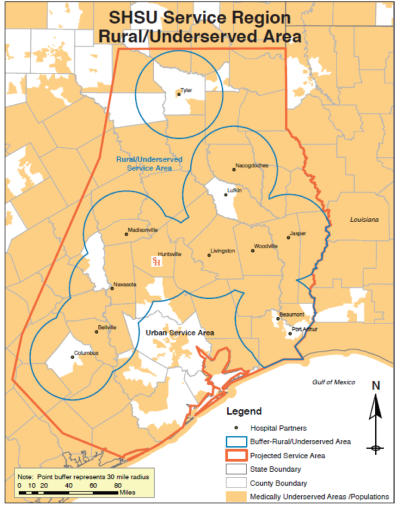 Disclaimer : The proposed Sam Houston State University College of Osteopathic Medicine is currently in applicant status. As an applicant, the proposed College of Osteopathic Medicine is not authorized to recruit students at this time. Students wishing to pursue Osteopathic Medicine should visit the American Association of Colleges of Osteopathic Medicine for more information on current programs and their application process.