Transfer Students
Transfer Orientation is a program designed with a diverse group of transfer students in mind. All students who graduated high school BEFORE the 2013-2014 academic year are eligible to attend Transfer Orientation regardless of the number of credit hours they have earned.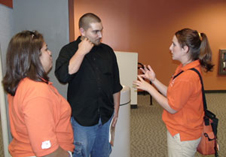 Transfer Orientation Dates
For students enrolling Spring 2014:
January 10, 2014
January 13, 2014 (@ The Woodlands Center)
For students enrolling Fall 2014:
August 4, 2014
August 15, 2014
Who should attend?
---
Transfer and returning students are encouraged to attend transfer orientation. Since no two schools are alike, you will find lots of useful information to help you acclimate to the SHSU environment. The Orientation Program understands that the diverse needs and schedules of our transfer students may preclude them from attending an orientation; therefore, Transfer Orientation is not mandatory.
What to bring
---
Transfer students will need to bring the following to Orientation:
Valid government issued ID (driver's license, state ID card, or passport-not expired). Required to obtain your Bearkat OneCard.
Comfortable clothing and shoes (a jacket or sweater is also recommended)
Notebook/notepad and pen or pencil
Umbrella (Texas weather is unpredictable!)
Spending money
Family information
---
The SHSU New Student Orientation Program welcomes family members to Transfer Orientation. Transfer students may bring parents, family members, spouses, significant others, or any other special support people who will benefit from attending orientation. Students and family members will remain together during orientation. All programs are designed for an adult audience, child care is not available.
Check in and Parking
---
Check in for Transfer Orientation will be held in the James and Nancy Gaertner Performing Arts Center. Students and family members will check in together. Once check in is complete, there may be time for students to visit an advisor in the academic advising center, or visit other campus offices.
Parking is available near the James and Nancy Gaertner Performing Arts Center in the parking garage ($5 per day) or on the street level in the north parking lots by the CJ building.
Academic Advising and Class Registration
---
Students who have been admitted to the university and have completed their TSI requirements or shown their exemption status are eligible to register for classes before or at orientation. Students must first visit an academic advisor in the SAM Center for selection of fall semester classes. Once the student has been advised, they may log on to any computer with Internet access to register for classes. Students who register for classes in the computer lab across from the SAM Center will have Orientation Leaders available to assist them with class registration. When registration is complete, students may print a fee statement for their tuition and fees.
TSI/THEA Compliance
---
The Texas Success Initiative (TSI) is a state mandated placement program. Students must take either the Texas Higher Education Assessment (THEA) or a state approved alternative to determine whether or not they are ready for college credit course work. Some students will be exempt based on either SAT, ACT, or TAKS scores. We strongly encourage all students to check their status through the Registrar's Office (936-294-4280) before they come to Orientation and, if needed, take one of the TSI approved tests then have their scores sent to the Registrar's Office to ensure they will be able to register for classes while they are here. Students required to take one of the TSI approved tests may take either the THEA, THEA-QT, ACCUPLACER, ASSET, or COMPASS. The Testing Center at SHSU offers the THEA, THEA-QT, and ACCUPLACER for students who need one of these tests. For information about our test schedules, fees, registration, and appointments please contact the Testing Center (936-294-1025).
Additional Opportunities for Transfer Students
---
The New Student Orientation Program works in close relationships with the following sponsors. We encourage you to utilize their services while at New Student Orientation or whenever visiting the Huntsville area:
The University Hotel (on campus) - 936.291.2151
Aramark Catering & Old Main Market - 936.294.1930
Brookplace Apartments - 936.436.0900
Encore at Sam Houston - 936.295.8425
The Villas on Sycamore - 936.439.5234
Tentative Schedule (Subject to Change)
Time
Activity
Event
8:30 a.m. - 9:30 a.m.
Orientation Check-in and Academic Support Services Fair

Academic Advising
Gaertner Performing Arts Center - Lobby

College of Humanities and Social Science Building - SAM Center
9:30 a.m. - 11:00 a.m.
Opening Session

Academic Affairs

Paying Tuition and Fees

Bearkat OneCard/Money Management Center

IT@Sam

Dean of Students Office
Gaetner Performing Arts Center- Payne Concert Hall
11:05 a.m. - 11:30 p.m.
Break Out Session 1
Various Locations
11:35 a.m. - 12:00 Noon
Break Out Session 2
Various Locations
12:05 p.m. - 12:30 p.m.
Financial Aid
Payne Concert Hall
12:40 p.m. - 1:50 p.m.
Lunch w/Sammy
Old Main Market
1:50 p.m. - 2:00 p.m.
Dining @ SHSU
Old Main Market
2:00 p.m. - 2:20 p.m.
Student Panel
Old Main Market
2:20 p.m. - 5:00 p.m.
Campus Offices Open

Academic Advising
Various Locations

College of Humanities and Social Science Building - SAM Center