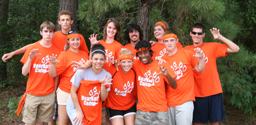 Congratulations on your acceptance to Sam Houston State University! Your merits and abilities have earned you a place in this vibrant campus community. You've been accepted because we think your character, talents, and potential will make you an excellent Bearkat.
But you aren't a Bearkat just yet! Now you need to officially enroll. To make the enrollment process as easy as possible, click on the printable checklist link below that best describes the kind of student you'll be at SHSU. It will take you step by step through enrollment, with helpful links for answers to any questions you might have along the way.
Acceptance vs. Enrollment: What's the difference?
Acceptance means that the SHSU Admissions Office has reviewed your materials and you receive a formal letter of acceptance.
Enrollment means that as an accepted prospective SHSU student, you have taken all of the steps to begin classes.
What is the next step?
Checklist to continue to Enrollment:
Proof of Meningitis Vaccination: SHSU students will be required to provide proof of meningitis vaccination before the first day of class. To see if you are required to provide proof of vaccination, please visit www.shsu.edu/meningitis.
Contact Us
If you have questions on any part of the application process, we're here to help. Please contact one of our Admissions Counselors or staff members or the Undergraduate Admissions Office at:
Undergraduate Admissions Office
Physical Address:
1903 University Ave, Estill Bldg, Ste 112
Huntsville TX 77340
(936) 294-1828
E-mail: admissions@shsu.edu
Please use the following address for any materials that you prefer to submit by U.S. mail rather than electronically. Such materials might include your official academic transcript and a check or money order for your application fee.

Mailing address:
Sam Houston State University
Undergraduate Admissions Office
Box 2418
Huntsville TX 77341-2418