Erica Starr Live Your Dream Memorial Theatre Endowment Scholarship:$3,000 per year. Recipient must be a full-time undergraduate in good standing and majoring in musical theatre, if in any one year there are no qualified musical theatre major applicants, then students majoring in theatre and showing an interest in the technical side of theatre (lighting, costumes, scenery, etc.) will be considered; demonstrate financial need. Application deadline is April 1st. For additional information contact Penelope Hasekoester, hasekoester@shsu.edu, 936.294.1330.
Our 1999 production of Brigadoon was dedicated in loving memory to Erica Starr Czerwinski, our student who was tragically killed by a drunk driver over Spring Break. While we grieve with the Czerwinski family, we are also honored by them. Erica's parents have established the Erica Starr Memorial Scholarship, which awards scholarship funds every year to an outstanding student in technical theatre and design, and the Erica Czerwinski Scholarship awards scholarship funds every year to musical theatre students.
As it was in these areas of theatre production that Erica excelled, and to which she intended to devote her life, it is fitting that this scholarship help other students achieve the goal to which she aspired.
We, the faculty, staff, and students of Theatre and Dance at SHSU are deeply grateful to the Czerwinski family for this wonderful tribute to their daughter's spirit.

ERICA STARR CZERWINSKI was a beautiful free spirit, always talking, always laughing, and always willing to help anyone who needed her. ERICA STARR was an exceptionally talented person.
Her singing, acting, and dancing charmed us all. ERICA STARR'S true gift was her creative magic combined with the technical skill to make it all happen. She had an almost natural talent for technical theatre and loved to work with lights.

Her last challenge was to be the light board operator for Brigadoon opening April 14, 1999. This goal was never fulfilled as she was called home to dance in God's light.
She now walks in the twilight; her steps make no sound; her feet leave no tracks on the dew covered ground.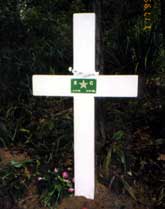 We will always remember ERICA STARR for her love of people, animals and the theatre.
April 11, 1979 - March 14, 1999
These scholarships will be awarded annually to a theatre major with a strong interest and desire to work and study in technical theatre, and to one who has demonstrated outstanding talent in musical theatre.
---
Department of Theatre & Musical Theatre
Box 2297, Sam Houston State University, Huntsville, TX 77341-2297
Phone: (936) 294-1329 | E-mail: theatre@shsu.edu