April 2015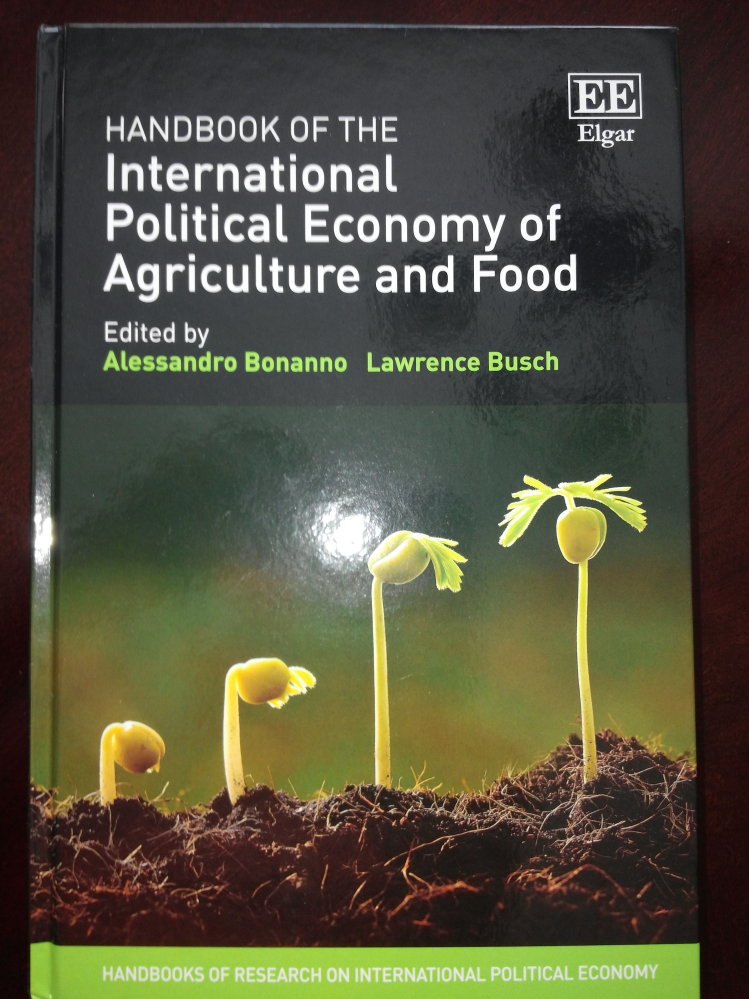 Dr. Alessandro Bonanno publishes new book "Handbook of International Political Economy of Agriculture and Food"
Synopsis of Book This book tackles the central question of the political and structural changes and characteristics that govern agriculture and food. Original contributions explore this highly globalized economic sector by analyzing salient geographical regions and substantive topics. Along with chapters that investigate agri-food in North America, Europe, Latin America, Asia and Oceania, the book includes contributions that cover topics such as labor, science and technology, the financialization of agri-food, and supermarkets.
---
July 17, 2014
Dr. Alessandro Bonanno publishes new book "Labor Relations in Globalized Food" in Research in Rural Sociology and Development
Synopsis of the book
In recent years, labor relations have been altered significantly and new and more serious forms of labor marginalization and control have emerged. This book looks at labor in agriculture and food in the global era by studying salient characteristics of the conditions and use of labor in global agri-food. Written by experienced and also emerging scholars, the chapters present a wealth of empirical data and robust theorizations that allow readers to grasp the complexity of this topic. The volume stresses the new and emerging dimensions of labor and its continuous importance under globalization. Relevant to those studying the use and position of labor in neoliberal globalization, topics addressed include: Globalization and change in labor relations, mobility of agricultural labor, social upgrading, labor relations and resistance in value chains.
---
February 10, 2014
---
September 20, 2013
---
March 19, 2013
---
March 2013
Bonanno & Constance Travel to Mexico for Conference
Dr. Bonanno and Dr. Constance are representing Sam Houston State University and the U.S. within the US-Mexican scholar's interdisciplinary research project regarding "Labor Relations in Agri-Food." This project is funded by a grant from the Mexican Government. Dr. Constance and Dr. Bonanno presented papers at the conference at the Universidad Autónoma de Ciudad Juárez. One of the upcoming activities of the group consists of the publication of a book co-edited by Dr. Constance.
---
February 2013
Theodori, Constance, & Hudec Receive 2013 SRSA Awards
Three SHSU faculty/staff were honored for their performance in teaching, research, and public service at the annual meeting of the Southern Rural Sociological Association (SRSA). The meeting was held concurrently with the Southern Association of Agricultural Scientists (SAAS) in Orlando, Florida, February 2-5. The 2013 theme of the meeting was: "Social Stabilization in the Twenty-first Century: The Role of Rural Communities." Dr. Gene L. Theodori, Professor and Chair of Sociology was awarded "Excellence in Instruction," Dr. Douglas H. Constance, Professor of Sociology received "Excellence in Research," and Cheryl L. Hudec, Associate Director for the Center for Rural Studies, was awarded "Excellence in Public Service." Constance and Theodori have now received all awards offered by the SRSA: Excellence in Instruction, Excellence in Research, and Excellence in Extension.
---
February 2013
---
January 2012
Dr. Alessandro Bonanno Travels Internationally for Lectures
In January 2012, Dr. Bonanno traveled to Japan for a series of lectures. He addressed Tokyo area economists, rural sociologists and the also delivered a public lecture. Dr. Bonanno also discussed his research with faculty and students at Rikkyo University in Tokyo.
---
For older news stories visit the news archives.
---