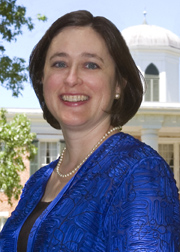 Doris Lessing said that learning occurs when "you suddenly understand something you've understood all your life, but in a new way." This is what happened to me in my first sociology course. Here was a discipline that showed me that my experiences weren't exclusive to me; that others in similar social contexts lived similar situations. This realization helped me to understand my own social surroundings and how I fit into them. I was, and I remain, fascinated.
My research currently focuses on the sociology of disaster. Of particular interest is why some communities are able to effectively respond to disaster and others are not. How people are connected within communities is seen as the key to understanding disaster responses.
I teach Introduction to Ethnic Studies, Principles of Sociology, Social Movements and Socialization, Social Control and Social Deviance, and Sociology of Disaster on the undergraduate level. In May 2006 I taught the Culture and Institutions of Italy course for the Sociology Field School in Italy program. On the graduate level I teach Social Inequality. In support of the department, I act as the Coordinator for Internships in Applied Sociology.