The Golden Baton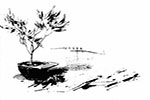 When Italian artist/musician/poet Vespasiano Bignami (1841-1929) drew his cartoon of the overturned kepi of the band of Cremona, he gave it two captions - "The Glory of a Bandmaster" and "The Golden Baton." The image is Amilcare Ponchielli's baton, taking root in the soil in the kepi of the capobada and becoming a laurel tree - the tree of gold. Thus did he memorialize the golden age of Ponchielli's tenure as bandmaster in Cremona (1864-1874). This site will present the forgotten music that was produced by Ponchielli that brought joy and comfort to his fellow Cremonesi. The glory of his band has been lost, but his music remains. It is the purpose of this site to present critically prepared editions of this music, beloved to three generations of Cremonesi but lost due to time and the tragedies of war, depression, and societal change. Though long famous as an operatic composer, Ponchielli is gradually becoming known internationally for his inventive, virtuosic works for the wind band.
Associazione Centro Studi Amilcare Ponchielli
---
Friends of Amilcare Ponchielli have just started an organization to renew interest in Cremona's great composer and native son. Its website may be found here.
How to Use This Website
---
While there are several websites that offer music for download and performance, this website will combine all of the services offered by these sites as well as hyper-linked information about the music and its history and traditions. MP3 and Adobe Acrobat forms are to be found here and elsewhere. What is new here is the addition of MusicXML files that will enable anyone to import the edition into a wide number of music notation programs. From these performance-ready editions can be readily made, thus repeating the nineteenth-century practice of preparing instrumentations of music based on the local resources. Two pieces are fully served by supporting ACROBAT, MP3, and MusicXML files: II Convegno and Marcia - Capriccio Piazza Stradivari. Just added is the MP3 of The United States Marine Band performing the modern band version of Ponchielli's fifteen variations on Carnevale di Venezia.
The Photo in the Header
---
This photograph is from 1884, when Raffaele Coppola (1841-1910) had succeeded Ponchielli as capobanda. Coppola stands in the center without an instrument in his hand. Several members of the band from Ponchielli's era are in the photo, most notably solo tuba, Roberto Haagen, who is at the far left. The header rotates by thirds, so one will need to "refresh" to see all three sections.
Site information
---
This site has been maintained by Henry Howey, Professor of Music at Sam Houston State University in Huntsville, Texas. He is responsible for its content and policies.
Site Updates
---
II Convegno is now up fully with newly-edited solo parts for download. The Virtuoso Arrangements will be arriving shortly. Also, please note that many pieces now carry the notation "ADD." These works were recently found deep within the Biblioteca statale in Cremona and are so identified as coming to light after the publcation of the original catalog in 1989.
---
School of Music
Sam Houston State University
1751 Avenue I, Huntsville, TX 77340
Phone: 936-294-1360