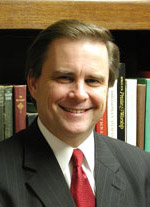 Associate Professor of Music, Vocal Area Coordinator
Contact Information
wayne.barrett@shsu.edu
(936) 294-2773
GPAC 190G

Division
Voice
Dr. Wayne Barrett has been a member of the SHSU faculty since 1992. He holds degrees from Samford University (B.M. in Music Education), The Southern Baptist Theological Seminary (M.C.M. in Church Music and Conducting), and the University of Iowa (D.M.A. in Choral Conducting and Pedagogy), where he studied with William Hatcher and Richard Bloesch.
Dr. Barrett is the Vocal Area Coordinator in the School of Music and is Associate Dean, Academic Innovation, College of Fine Arts and Mass Communication.
During his tenure in the School of Music, he has served as Associate Director of the School; he has directed the Concert Choir, Chorale, and Symphonic Chorus; taught voice, choral methods, and conducting; and has directed the summer Choir Camp. He also teaches occasional courses in sacred music. For the 2012-13 academic year, in addition to his musical activities and teaching, he was the Interim Chair of the Department of Art. Dr. Barrett initiated advisement for all music majors early in his years at the school and coordinated departmental advising. He then served as a faculty advisor at the Student Advisement and Mentoring (SAM) Center.
Dr. Barrett is a lyric tenor, specializing in oratorio and cantata literature. He has sung the Evangelist with the Texas Baroque Ensemble in performances of J.S. Bach's St. John Passion and Christmas Oratorio. Other performances include Handel's Messiah, Honneger's King David, Mozart's Mass in C Minor, Bruckner's Te Deum, and numerous Bach cantatas. Dr. Barrett's activities take him regularly to Hungary and other areas of Central and Eastern Europe. He has completed extensive studies of Hungarian sacred music during the Communist era (1945-91) and has introduced some of this repertoire to the American public. He has lectured at the Baptist Theological Academy in Budapest and taught in the summer SITE program at the International Baptist Seminary in Prague.
Dr. Barrett is an active church musician and a published composer, arranger, and editor of sacred music. He has been active in the Huntsville community since his arrival, including serving two terms on the Huntsville City Council.