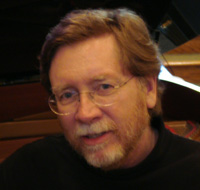 Opera Coach
Contact Information
reh011@shsu.edu
(936) 294-1382
School of Music 332
Opera Workshop - Coming Soon
Division
Opera Studies
Robert Hunt is a multi-dimensional artist whose accomplishments range across the spectrum of classical and popular styles and encompass conducting, composition, piano performance and accompanying. He was the Music Director of the Midland-Odessa Symphony and Chorale during one of its most successful eras, 1994-2001. He has served as guest conductor for several professional orchestras and ballet companies, and has collaborated with prominent soloists including Susan Graham, Helen Donath, James Dick, Lee Luvisi, Dikran Atamian, and Eugene Fodor. He was the chorusmaster for opera productions at Indiana University and Texas Christian University and served as a pianist-coach for Boris Goldovsky workshops and at the Dallas Opera as assistant to Roberto Benaglio.
Dr. Hunt is equally comfortable in the realm of popular music and musical theater. A studio musician and jingle writer in Dallas, he toured with Ray Price as pianist/conductor and appeared with Willie Nelson, Julius LaRosa, Peggie Lee, The Lettermen, Trini Lopez, Ed Shaughnessy, the New York Voices, and Rich Little. From 1983-88, he was the musical director for American Cabaret Theatre of New York. He wrote and conducted a musical revue for the American Express 25th Anniversary at the Waldorf-Astoria hotel in New York City. He has been commissioned to write pops arrangements for the Empire State Games, the Lake Placid Sinfonietta, the Northwood Orchestra (MI), the Midland-Odessa Symphony, the San Angelo Symphony, and the New York Pops.
As an educator, Dr. Hunt's experience is likewise varied. He has taught choral music at the Jr. High and High School levels, instrumental and choral conducting at Indiana University, and was the Director of Commercial Music Studies at Midland College from 1990-2005. At the University of Houston, he directed the Concert Women's Chorus as an Affiliate Artist. He has served as all-region clinician for both choir and orchestra and has guest-conducted the Lubbock Youth Orchestra. His compositions have been published by GIA and Crescendo Publications.
Dr. Hunt completed course requirements for the Doctor of Music in conducting at Indiana University and hold degrees in piano and musicology from SMU and TCU. He received the Doctor of Musical Arts in choral conducting from the University of Houston in 2006. He directs the music program at The Woodlands Christian Church and is the artistic director of Constellation, an innovative chamber choir and orchestra devoted to the creation of fresh contexts for performance of both old and new music. At SHSU, he conducts the Women's Chorus and serves as music director/pianist for opera workshop.