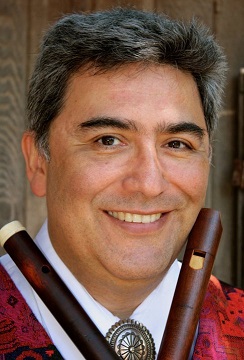 Adjunct Instructor, Musicology
Contact Information
kxp050@shsu.edu
(936) 294-4990
GPAC 220I
Division
Musicology
Kim Pineda received his PhD in historical musicology from the University of Oregon, the MMus from Washington University, St. Louis, and the BMus from California State University, Northridge. His recent musicological work includes three articles: "Closing the gap: Observations on cross-genre programs and the exchange of historical performance practices," in the Journal of the Vernacular Music Center, Vol. 2, No. 1, 2016; "Baroque Sister Act: Sacred Parodies in the Educational Outreach of the Ursuline Nuns in Eighteenth-century New Orleans," for the 2016 Society for Eighteenth-Century Music conference proceedings (Steglein Publishing, Inc., 2017); and "Eighteenth-century real time composition: A guide for the modern flutist," in The Flutist Quarterly 40, no. 3 (Spring 2015). His book on the music practices of the Ursuline Nuns in 18th-century New Orleans has recently been accepted for publication by the University Press of Mississippi.
At musicology and interdisciplinary conferences Dr. Pineda has discussed the impact of French and Spanish colonialism in the American South and Southwest, the accompanying Catholic outreach, and its influence on the respective African-, Native-, and Latin-American communities at meetings of the American Musicological Society, the Society for American Music, the AMS-Southwest Chapter, the 7th Biennial Meeting of the Society for Eighteenth-Century Music; issues of race, gender, and empire at the Western Society for Eighteenth-Century Studies conference, and has discussed the connections between rhetoric and music at the Patristic, Medieval, and Renaissance Studies Conference.
His research interests include French and Spanish colonial and mission music in the Americas; Rhetoric and music in the 17th and 18th centuries; Music, race, gender, and empire in the long eighteenth century; Improvisation traditions from the 15th through the 19th centuries; Transmission of music across cultural borders; and Historical performance practices/Arts Practice Research. Dr. Pineda has taught at Texas Tech, University of Oregon, and Seattle Pacific University.
Learn more about Dr. Pineda at http://kimpineda.com/