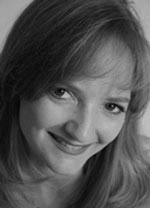 Professor, Director of Music Therapy
Contact Information
karenmiller@shsu.edu
(936) 294-1376
School of Music 316
Music Therapy Home
Division
Music Therapy
Karen Miller is Professor and Director of Music Therapy at SHSU. Prior to joining the faculty at Sam Houston State, Professor Miller worked as a music therapy director, supervisor, and clinical practitioner, acquiring more than ten years' experience in clinical music therapy practice. Professor Miller has provided full-spectrum music therapy services to a wide variety of populations in Florida, South Carolina, and Texas. Areas of specialization include music therapy in the psychiatric treatment of adolescents, and Neurologic Music Therapy in the treatment of patients suffering from strokes, traumatic brain injuries, and Parkinson's Disease. She has received specialized training in Neurologic Music Therapy and is among the first fellows of the Robert F. Unkefer Academy of Neurologic Music Therapy.
She has been active in community education, presentation of clinical and research material, and research publication. Ms. Miller has presented regionally, nationally, and internationally. Her research is published in the Journal of Music Therapy and Music Therapy Perspectives. She is a Past-President of the American Music Therapy Association's Southwestern Region (SWAMTA) and currently serves as Co-Chair of the American Music Therapy Association's Academic Program Approval Committee; she is a long-standing Assembly Delegate to the American Music Therapy Association.
As Director of Music Therapy at SHSU, Professor Miller has contributed to both qualitative and quantitative growth of music therapy programs through endeavors such as proposing additions to the faculty, overseeing the development of SHSU's graduate programs in music therapy, developing the on-campus SHSU Music Therapy Clinic, cultivating international exchanges, and establishing a wide variety of practicum and internship programs for SHSU students. Professor Miller gained prior university teaching experience at both the University of the Pacific in Stockton, California, and The Florida State University in Tallahassee, Florida.
Ms. Miller is also a singer/songwriter and has produced two CD's of original songs. Her music education and music therapy studies were completed at Oklahoma Baptist University (B.M.E.) and The Florida State University (M.M.).