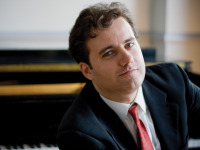 Assistant Professor, Artist/Teacher of Piano
Contact Information
(936) 294-1394
School of Music 331
Keyboard Studies
www.josudesolaun.com
Division
Keyboard
As a First Prize winner of the XIII George Enescu Competition in Bucharest (whose list of prize winners includes legendary pianists such as Radu Lupu), the XV José Iturbi International Piano Competition in 2006 and the 2009 European Union Piano Competition, held in Prague, Spanish pianist Josu De Solaun has been invited to perform in distinguished concert series throughout the world, having made notable appearances in Saint Petersburg (Mariinsky Theatre), Washington, DC (Kennedy Center), New York (Carnegie Hall, Metropolitan Opera), Princeton (Taplin Hall), Santa Barbara (Hahn Hall), London (Southbank Centre), Paris (Salle Cortot), Leipzig (Schumann Haus), Taipei (Novel Hall), Mexico City (Sala Silvestre Revueltas), Prague (Nostitz Palace), Rome (Academia de España), Menton (Festival International de Musique), and all major cities of Spain. He is the first pianist from Spain to have ever been awarded the coveted Iturbi Prize in the more than 30 years of its existence.
Beginning at a young age, he has performed in France, Georgia, Italy, Russia, Ukraine, Canada, Germany, Japan, China, Bulgaria, the Czech Republic, Poland, the Netherlands, Mexico, Chile, and Switzerland as a recitalist, chamber musician, and concerto soloist, playing under conductors such as Justus Frantz, Bruno Aprea, Francesco Angelico, Yaron Traub, Max Bragado, Paul Daniel, Ryan Haskins, Theodore Kuchar, Constantine Orbelian, Ramón Tébar, Yuri Krasnapolsky, Ormsby Wilkins, Alexis Soriano, Francisco Valero, and Miguel Ángel Gómez Martínez, among others, as well as with orchestras such as the George Enescu Philharmonic (at the Romanian Athenaeum), the Mariinsky Theatre Orchestra of Saint Petersburg, the Orchestra Roma Sinfonietta of Rome, the Moscow Chamber Orchestra, Mexico City Philharmonic Orchestra, Czech Radio Orchestra, Virginia Symphony Orchestra, Sioux City Symphony Orchestra, Monterey Symphony Orchestra, Orquesta Sinfonica de Euskadi (Basque National Orchestra), Janacek Philharmonic Orchestra, Real Filharmonia de Galicia, Valencia Philharmonic Orchestra, Spain's National Radio and Television Orchestra (RTVE), American Ballet Theatre Orchestra of New York, Lviv Philharmonic Orchestra of Ukraine, and Bari Philharmonic Orchestra of Italy. His performances have been frequently broadcast on Spanish National Radio, Taiwanese National TV, Czech National TV, as well as on New York's WQXR, Princeton's WPRB, and Chicago's WFMT.
Highlights of recent seasons include performances as concerto soloist with the famed Mariinsky Theatre Orchestra of Saint Petersburg, at the Mariinsky Theatre, performing both Copland's Piano Concerto and De Falla's Nights in the Gardens of Spain, performances as soloist with New York's American Ballet Theatre Orchestra at the Metropolitan Opera playing Britten's Diversions for piano and orchestra, performances as a soloist performing theTchaikovsky Piano Concerto Nr. 1 with Rome's Orchestra Roma Sinfonietta at Rome's Villa Giulia, a tour of Spain with the Basque National Orchestra playing Beethoven's Emperor Concerto, performances of the rarely heard Giuseppe Martucci Second Piano Concerto in Spain, Rachmaninoff's Third Piano Concerto in Lviv, Ukraine, Stravinsky's Les Noces at the Virginia Arts Festival, the also rarely heard Hummel A-Minor piano concerto in Santiago de Compostela, Manuel de Falla's Nights in the Gardens of Spain in the Tiles Center of New York, Beethoven's Third Piano Concerto with the Sioux City Symphony Orchestra, a solo recital in Chicago's Dame Myra Hess Memorial Concerts, at the Metropolitan Museum of Art in New York, in Mexico City's UNAM, and his conducting debut in Spain, conducting a Mozart program with the Joven Orquesta de Malaga.
Future engagements include a cycle of 11 recitals covering Robert Schumann's complete piano music at New York's Klavierhaus Recital Hall, a solo recital in Auditorio Ciudad de Leon in Spain featuring the Elliott Carter Piano Sonata and John Adams' Phrygian Gates, chamber music performances in Malaga at the Malaga Clasica Festival, chamber music performances at the Virginia Arts Festival and at Santa Barbara's Music Academy of the West, a recording of violin and piano works by Catalan composer Jordi Cervello, Rachmaninov's First Piano Concerto with the Orquesta de Valencia in Spain, Tchaikovsky's First Piano Concerto with the North Shore Symphony Orchestra of New York at the Tiles Center, recitals at the Roerich Museum in New York, Myra Hess Recital Series in Chicago, and Hartford's Schubert Club. Also, in 2015, the NAXOS label will release his recording of Stravinsky's Les Noces under JoAnn Falletta and members of the Virginia Symphony and Chorus, alongside pianists Andre-Michel Schub, Lydia Artimiw, and Anna Petrova.
Josu De Solaun has resided in New York City since 1999, where he moved at the age of 17, and is a graduate of the Manhattan School of Music, where he studied, for twelve years, under pianists Nina Svetlanova and Horacio Gutierrez, and where he was a graduate teaching assistant from 2005 to 2011. At MSM, he was also a chamber music student of Isidore Cohen, from the Juilliard String Quartet and Beaux-Arts Trio, and of violinist Sylvia Rosenberg, as well as a composition student of Giampaolo Bracali and a conducting student of both David Gilbert and Robert Isaacs. He also has continued studying conducting with Italian conductor Bruno Aprea.
Josu de Solaun also continues to unfold several interests in his life, including a near completion of a degree in Philosophy from Universidad de Valencia in Spain, as well as writing poetry which is occasionally published and which has been recited in Spanish National Radio.
As a collaborative artist, he was worked alongside Mark Nuccio, associate principal clarinetist of the New York Philarmonic, Amaury Coeytaux, concert master of the Orchestre Philarmonique de Radio France, pianists Andre-Michel Schub, Lydia Artimiw, and Anna Petrova, and legendary soprano Catherine Malfitano, among many others.
He now divides his time between New York and Houston, Texas, where he has joined the faculty of Sam Houston State University, as Artist/Teacher of Piano, a position which he combines with a rigorous concert schedule. He is managed by Iberkonzert (www.iberkonzert.com) and Diamond Artists (www.diamond-artists.com) in Europe, and by Norman Vega Artists (www.normanvega.com) in North America.