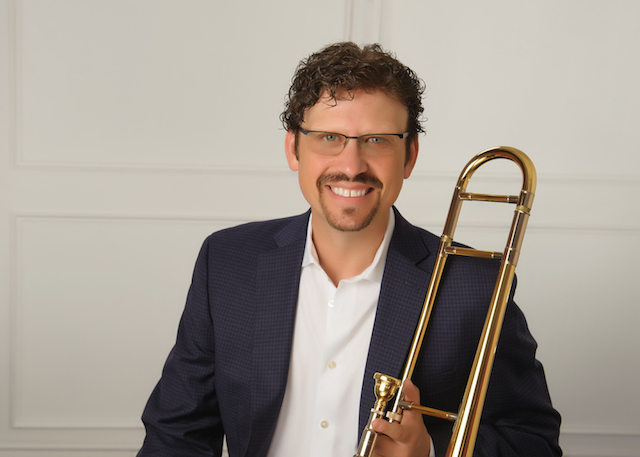 Associate Professor, Director of Jazz Studies
Contact Information
schneller@shsu.edu
(936) 294-1381
GPAC 220H
Division
Jazz
Aric Schneller, D.M.A. is now into his tenth year as Director of Jazz Studies at Sam Houston State University, Huntsville, Texas. Aric's duties include directing the Jazz Ensemble and Jazz Lab Band, teaching jazz improvisation, contemporary keyboard skills, and jazz arranging, teaching summer jazz camps, directing the annual SHSU Bill Watrous Jazz Festival, and coordinating the Jazz Studies Program. Before coming to SHSU, Aric taught at Idaho State University, the University of North Texas, and in the public schools of Justin, Texas.
Aric is a former member of the Grammy Nominated University of North Texas One O'Clock Lab Band, directed by Neil Slater. Aric can be heard on the One O'Clock Lab Band CD, "Live In Portugal - 1993" as well as other Down Beat Magazine winning recordings with the UNT Two O'Clock Lab Band such as "The Transparent Two – 1992" which featured Aric as trombone soloist and jazz arranger. Aric's singing can also be heard on the UNT Jazz Singers CD, "Scrap Book" directed by Paris Rutherford. Aric has worked/performed with such jazz greats as John Allred, Randy Brecker, Pete Christlieb, John Fedchock, Chuck Findley, Andy Firth, Ingrid Jensen, Rich Matteson, Diane Reeves, Lynn Seaton, Ed Soph, Allen Vizzutti, Bill Watrous amongst others.
Aric is an artist of many talents with the ability to sing, play, compose, and teach music at the highest levels. Being a former operatic tenor, Aric has sung professionally with the Ohio Light Opera Co., the Boston Lyric Opera Co., and the del' Arte Opera Ensemble of New York City. While living and working in New York City from 2000-2005, Aric toured the U.S. with his trade mark clinic, "The Art of Singing the Trombone" garnering critical acclaim at the 2005 Eastern Trombone Workshop in Washington, DC and the 2005 International Trombone Festival in New Orleans.
As a jazz arranger, Aric's solo trombone feature with big band arrangement, "Invitation" was launched into the international jazz scene in November 2006 with the HGM Jazz Orchestra at the Zagreb Jazz Festival in Zagreb, Croatia. These performances were broadcast on Croatian and Austrian radio and television. Also in June of 2006, Aric was a jazz trombone finalist with the West Point Academy, Jazz Knights Premier Jazz Band.
Originally from Missoula, Montana, Aric holds his DMA degree from the University of North Texas, a MM degree in Jazz Studies from the University of North Texas, a MM degree in Vocal Performance from Boston University, and a BM degree in Trombone Performance from the University of Montana. Aric is the creator and Artistic Director of the SHSU Bill Watrous Jazz Festival, a Yamaha Performing Artist, an arranger/composer for Alfred Music/Belwin Jazz, a member of ASCAP, and a voting member of the National Academy of Recording Arts and Sciences Grammy Awards.