We are proud to announce the seventh year of the PEERS Program: an exciting opportunity for promising young scientists at Sam Houston State University.
For each of the past four years, up to $150,000 was awarded to more than two dozen undergraduate and graduate students studying mathematics, statistics, geology, geography, and the biological sciences.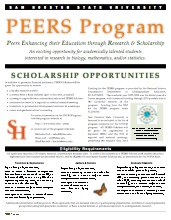 With funding from the National Science Foundation, the PEERS Program will continue to reward academic success and interest in scientific research through generous financial scholarships.
Financial support is available to both undergraduate and graduate students. Up to $6,000 is available to undergraduate and up to $7,250 is available to graduate students that have chosen to major in mathematics, statistics, or biological sciences. Eligibility requirements and scholarship details can be found here. PEERS also offers scholars opportunities to enhance their educations through mentors, seminars, private tutoring and more.
The success of the PEERS program has been verified with both initial and exit surveys. The accomplishment of our stated goals will allow our program to be renewed through 2016.
Applications for the 2015-2016 academic year will be reviewed beginning April 10, 2015.
***Renewal Forms for PEERS Scholars wishing to continue funding may be found here and are due April 3, 2015.