"Wisdom Begins in Wonder" - Socrates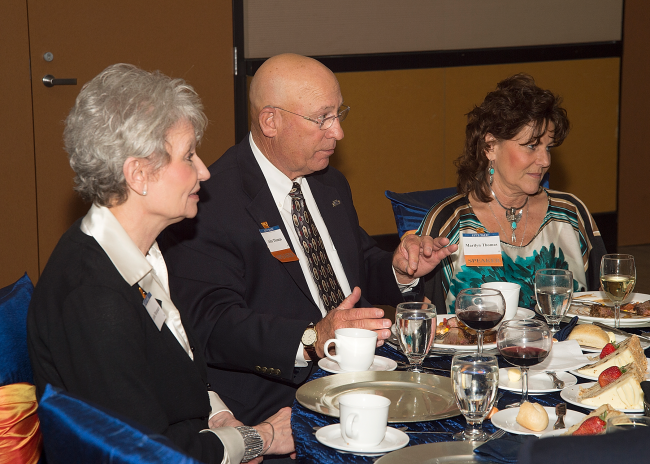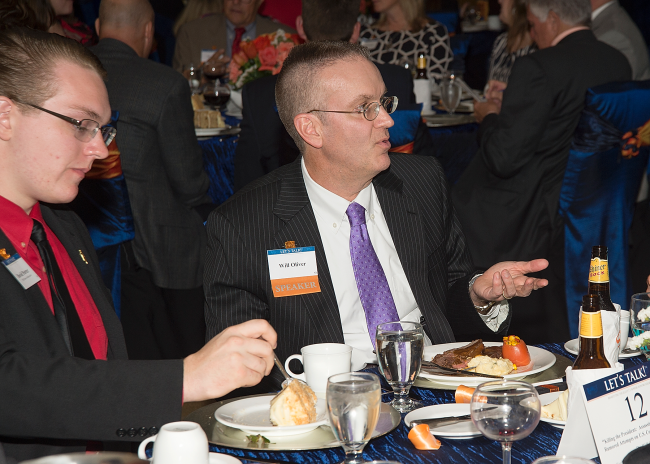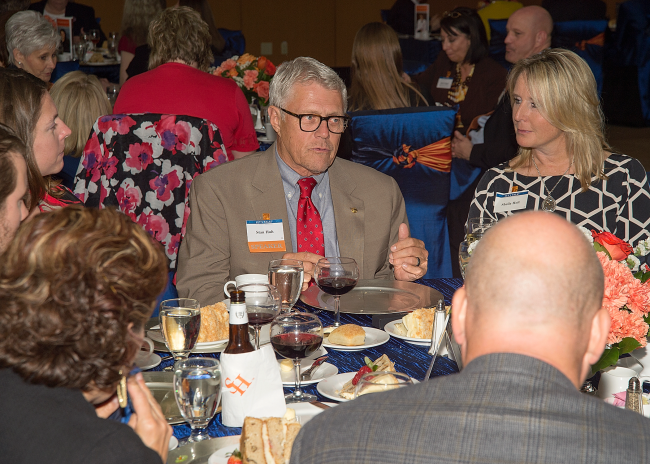 Engaging Interactive Personal
---
Each year renowned guests are invited to attend LET'S TALK!™
to speak about a topic that they are an expert on.
Topics vary from year to year but all are unique and creative.
To view the previous topics, click the links below:
2008 | 2009 | 2010 | 2011 | 2012 | 2013 | 2014 | 2015
2015 LET'S TALK!™ Conversation Leaders and Topics

Topic

Discussion

Leader

Description

1. Bringing Peace and Prosperity to Houston: One Man's Impact on Civil Rights

Rev. Bill Lawson


Founding Pastor of Wheeler Avenue Baptist Church

Reverend Bill Lawson has been a pioneer for the civil rights movement in the Houston area for nearly 50 years. Come along with us as Rev. Lawson discusses the movement and how it changed Houston. Lawson is the founding pastor of Wheeler Avenue Baptist Church in Houston's Third Ward. In 1963, shortly after the church was founded, he invited Martin Luther King Jr. to speak to the congregation. On the frontline of the civil rights movement, Lawson spent time marching with Dr. King; and helped organize sit-ins protesting segregation at Texas Southern University, where he was a professor.

http://vimeo.com/110502210




http://www.wheeleravebc.org/




http://walipp.org/




2. Running Start: Women, Power and Politics


Ms. Nancy Bocskor


Consultant, Speaker, and Internationally Renowned Expert in Applied Democracy;

Adjunct Professor of Political Management at George Washington University's Graduate School

Tagged a "Democracy Coach," Nancy Bocskor has traveled throughout the United States and to more than 20 countries empowering women to achieve change in their communities. Beyond our borders, women face great challenges: little to no sanitation or clean drinking water, limited educational and economic opportunities, poor access to health care. Bocskor prepares women to enter the world of "public service" and how to turn a dream into a plan with achievable steps via civic engagement, NGOs and ultimately elected office. Her stories are entertaining, engaging and at times heartbreaking as she shares what women have overcome on their path to public service in countries such as Nigeria, Bolivia, Russia, Jordan, Egypt and Belarus. You'll be captivated by the extraordinary life of a woman on a worldwide mission to inspire more women to improve their lives. Be prepared to take her seasoned, practical advice and life lessons learned from around to world, to positively impact your own life – and community.

3. Precision Medicine: A Vision for the Future


Dr. Mauro Ferrari

President and CEO of Houston Methodist Research Institute;


Ernest Cockrell, Jr., Presidential Distinguished Chair

To most people, the future is an adventure waiting to happen, but to those suffering from serious illnesses, their future is like a countdown. Houston Methodist is creating a vision for the future, by implementing a new five-year strategic plan that includes a focus on precision medicine. Mauro Ferrari led the development of the largest nanomedicine program in the world at the National Cancer Institute. Join us as Ferrari discusses how this plan will differentiate the organization in the years to come.

4. Faster Than A Speeding Bullet: Texas Central High-Speed Railway




Honorable Robert Eckels

President of the Texas Central High-Speed Railway


The Texas Central High-Speed Railway is making an effort to boost Texas's economy while making the 240 mile journey between Dallas and Houston an enjoyable experience, rather than a chore. Based on the Japanese concept that operates today with a nearly 50 year perfect safety record, Texas's high-speed railway could provide thousands of jobs and help reduce congestion and wear and tear on our infrastructure. Take a ride with us as Robert Eckels discusses how a high-speed rail will change the way Texans travel forever. All aboard!

5. In Silence They Served: The Secret Lives of NSA Code Breakers

Mrs. Gayle Fallon


Former Code Breaker for the National Security Administration (NSA);

President of the Houston Federation of Teachers;

SHSU Alumna `80

If you've never heard of the term "code breakers," there's a good reason why. The first rule in code breaking was, "Don't talk about code breaking." Gayle Fallon spent two years in this top-secret position for the National Security Administration, and she joins us to give the inside scoop. With a top secret classification, Fallon translated and broke coded communications captured during the Vietnam War, a process, that in 1966, meant lives were at risk every minute it took to break the enemy code. Today, Fallon serves as president for the Houston Federation of Teachers, and focuses her talents on fighting for teachers' rights.

https://www.nsa.gov/
http://hft.tx.aft.org/

6. Houston: The City With No Limits




Mrs. Cari Broderson

Vice President of Economic Development for the Greater Houston Partnership

When opportunity knocked, Houston answered. With the number of jobs created in recent years and the low unemployment rate, Houston is a city for those who work hard for success; and won't settle for less. Cari Broderson will share how there are no limits to what can be accomplished in Houston, making even the shortest of visits seem like a grand experience.

7. The Texas Water Crisis: An Unquenchable Thirst

Mr. Kevin Ward

General Manager for the Trinity River Authority;

Former Executive Director for the Texas Water Development Board;

Texas Water Planning Group Member for Regions C and H

According to the state water plan, demand for water in Texas is expected to increase by 27 percent between 2000 and 2060.What do we do when the industry that fuels our state economy also is draining our water supply? The recent drought and over-pumping of resources by the oil industry has created a water shortage that affects the daily lives of those who depend on the land. Kevin Ward will fill us in with the latest information on the Texas water crisis.

8. Enter the Dragon: The Strength of Nations and Total Global Power Levels


Dr. Wade Shol

Master Training Specialist of Survival, Evasion, Resistance and Escape;

Professor of Government at Blinn, College;

Adjunct Professor of Government at Lone Star College, and San Jacinto College;

Education Consultant and Curriculum Developer for the Charles Koch Foundation and Institute in Arlington, Virginia.

What if someone told you that in your lifetime, the U.S. would no longer reign as the world's superpower? According to Dr. Wade Shol, that time is coming sooner than any of us could have imagined. Shol, who is still heavily involved with the intelligence community, will share the ideas behind a formula he developed that predicts global trends in national power status, which shows the People's Republic of China becoming the world's superpower by 2017. He will also discuss the threat it poses to maritime and global security.

9. Texas Schools 101: From Testing to Textbooks

Mrs. Barbara Cargill, MSSE


Chair of the Texas State Board of Education


Textbooks, testing, curriculum standards, dress codes, and prayer in schools - in Barbara Cargill's 30+ years in education, she's heard debates over it all. She has taught biology in public schools, founded a summer science camp for children and won numerous awards for her dedication to not only educating children, but teaching them in a way that made them enjoy learning. Her passion sparked an interest in running for the State Board of Education (SBOE) and on Jan. 1, 2005 she was sworn in as an elected member of the board. Gov. Rick Perry appointed her as chair of the SBOE in 201 and reappointed her in 2013. In her third 4-year term, Mrs. Cargill considers it a great privilege to serve children, parents and teachers at the state level in Austin. She will join us to discuss the many "hot-button" issues in education today, including many issues that will be presented for legislation in the upcoming session.

10. Killing the President: Assassinations, Attempts, and Rumored Attempts on the U.S. Commanders-in-Chief


Dr. Will Oliver


Official Historian for the Academy of Criminal Justice Sciences;

Retired Military Police Officer;

Professor of Criminal Justice at Sam Houston State University

Can you name the four U.S. presidents who were assassinated in office? How about the 17 presidents who have had assassination attempts on their lives? If you can't, join Dr. Will Oliver as he discusses what he learned when writing a book about the topic. After being turned away from the Secret Service at the age of 21 for wearing glasses, he began his career in law enforcement, serving in the Army Reserves and Operation Desert Storm. These days, he can be found at Sam Houston State University, where he teaches courses in "Crime, History & Hollywood;" profiling violent offenders and current police policies as a tenured professor of criminal justice.

11. Lupe Tortilla Mexican Restaurant: One Man's Recipe for Success


Mr. Stan Holt


Founder and Owner of the Original Lupe Tortilla Mexican Restaurant;

SHSU Alumnus `67

When Stan Holt opened the first Lupe Tortilla location in 1983, customers quickly learned that it would be "nacho average" Mexican restaurant. Thirty-two years later, there are 18 Lupe Tortilla locations across southeast Texas. Holt is dedicated to ensuring the freshness of every meal served, which often results in wait times reaching more than two hours. Stan Holt will share his recipe for success and "taco bout" how he keeps his customers coming back for more.

12. Held at Gunpoint: The FBI and the Real World of Mexican Cartels


Special Agent Daniel Fuentes


FBI Special Agent;

SHSU Alumnus `87


On a sunny November afternoon in Matamoros, Mexico, FBI special agent Daniel Fuentes and his DEA partner suddenly found themselves surrounded by a convoy with more than a dozen gunmen carrying assault rifles. They were approached by Osiel Cardenas, leader of the Gulf Cartel at the time, and told to surrender or be killed. Even as the man known as "El Loco" pointed his gold-plated AK-47 at their heads, Fuentes and his partner knew they would never surrender. Hear the full story straight from Fuentes himself as he recalls that unforgettable day.

13. Center for Innovation and Technology: Where Compassion and Innovation Collide


Dr. Pam Zelbst

Director of the Center for Innovation and Technology at Sam Houston State University;

SHSU Alumna `97, `98


Technology has always existed to make our lives easier, whether it is to blow-dry our hair or give us directions in the car. But for those who suffer from the loss of a limb, technology can mean all of the difference in the world. Pam Zelbst and her team at the Center for Innovation and Technology at SHSU are dedicated to improving the lives of those in need. In 2014, the team worked to create a prosthetic hand for a 5-year-old girl who was born without one. Now, they are teaming up with the Center for the Intrepid at the Brooke Army Medical Center to create tools to enhance the quality life for wounded warriors. Zelbst will discuss the strides that the center is making.

14. National Security and Combating the Terrorism Threat

MG James "Spider" Marks USA (Ret)

Military and Intelligence Contributor to CNN, Fox News, CBS, MSNBC and BBC;

Managing Director of Opportunities Development Group

With the world mourning the loss of those killed during the recent terrorist attacks in Australia, Canada and France, many are asking if enough is being done to put an end to global terrorism. James "Spider" Marks has more than 30 years of military experience under his belt, having served as the senior intelligence officer for the 2003 liberation of Iraq. Marks will discuss combating terrorism and what national security means in today's society.

15. Coping With Traumatic Brain Injury: One Woman's Journey From Death to Life

Ms. Patti Foster

Traumatic Brain Injury Survivor and Inspirational Speaker;

SHSU Alumna `89

After she was severely injured in a car accident in 2002, doctors told Patti Foster that even if she was lucky enough to survive, she might never walk or speak again. Defying the odds, today she is an inspirational speaker who refuses to take her own heartbeat for granted. Foster's story will empower you to take control of your life and make a difference now.

16. Marilyn Monroe: Day by Day

Dr. Carl Rollyson

Author;

Advisory Editor for the Hollywood Legends Series Published by the University Press of Mississippi

More than 50 years after her death, Marilyn Monroe's life is still a mystery to many. Although a number of biographies detailing her private life exist, Carl Rollyson wanted to create a biography that details everything from her troubled childhood to the last movie she saw before her untimely death. Rollyson will share what he learned about the pop culture icon and how that knowledge debunks myths about her life.

17. Man of Steel, Iron Will: Overcoming Great Odds to Achieve Greatness

Mr. Leo

Bourgeois

2013 & 2014 Ironman Finisher;

Wellness Champion;

Deputy Assistant Director for Drinking Water Operations City of Houston

When Leo Bourgeois decided that it was time to make a change, he knew that there was no turning back. Weighing 415 pounds, he underwent bariatric surgery to kick-start his journey to a new lifestyle. Since losing 200 pounds, he has been given the second chance at life that he had always dreamed of and the loss has allowed him to compete in two Ironman Triathalons. He now uses his experience as an opportunity to encourage others to never give up. Bourgeois will discuss the influences on his decision to get healthy and share his tips for keeping the weight off.


http://www.myfoxhouston.com/story/25520775/ironman-hopeful-loses-200-pounds

18. The Rise of the Drones: Military, Public Safety and Commercial Unmanned Planes Could Soon be Deployed in YOUR Town

Mr. Michael Buscher

CEO and Chairman of the Board of Vanguard Defense Industries, LLC

In recent years, the popularity of drones for personal use has seen a huge increase. Farmers use them to monitor crops and land, law enforcement officers use them in search and rescue missions, and real estate agents use them to show a property from an aerial perspective. Although the industry's growth is limited by regulations, drones are a viable option to increase efficiency in many commercial industries. Michael Buscher will provide insight into how drones are revolutionizing the way people do their jobs.

19. My Years With Elvis and the Colonel


Mr. Charles Stone


Former Tour Producer and friend of Elvis Presley;

Owner of Charles Stone Management


Whether you were able to experience his influential career personally or have only experienced his legacy through the eyes of those who were there, there are few people do not know the impact Elvis Presley left on this Earth. Even fewer were fortunate enough to work as closely with "the King" as Charles Stone did. Stone will relive the years he spent on tour with Elvis and will discuss the memories he shared with "The King of Rock and Roll" during that revolutionary period of music.

20. Running Dry: How the Drought is Affecting Texas

LTG Phil Ford, USAF (Ret)


General Manager and CEO for the Brazos River Authority


More than 10 million Texans are currently affected by the water shortage, according to the National Drought Mitigation Center. Although the situation is improving, water levels across the state are the some of the lowest Texas has seen since the 1950s, and many people are turning to legislators for answers. Phil Ford has operated as the general manager of the Brazos River Authority since 2001. He will examine how the water shortage is affecting Texans, and what the future holds for the state's water supply.

http://www.brazos.org/

21. Building a Presidential Legacy


Mr. Fred McClure

CEO of the George Bush Presidential Library Foundation;

Former Managing Partner of the international law firm, Dentons in Washington, DC;

Former Assistant of Legislative Affairs to President George Bush;

Special Assistant for Legislative Affairs to President Ronald Reagan

What do Gerald Ford, Ronald Reagan and George H.W. Bush have in common, other than their time spent as presidents of the United States? They each employed Fred McClure, who served each in a number of roles–from an intern, to a senior member of the White House staff. McClure, current CEO of the George Bush Presidential Library Foundation, will recount the years he worked alongside the former presidents, and share how they influenced his path to success.

22. Wildseed Farm: Beauty in Blooms


Mr. John Thomas and Mrs. Marilyn Thomas


Founders and Owners of Wildseed Farm


John - SHSU Alumnus `70

Marilyn - SHSU Alumna `69

Tom Petty and the Heartbreakers once sang, "You belong among the wildflowers…you belong somewhere you feel free." A visit to Fredricksburg's Wildseed Farm, the world's largest wildflower farm, will leave you feeling free and rejuvenated. John and Marilyn Thomas, who founded the farm in 1983, will reveal how wildflowers have blossomed into an enchanting experience for more than 100,000 people who visit each year.

23. "Entrepreneurialism: The Pros and Cons From a Real Life Perspective"

Mr. Russell Molina


Retired Founder and Owner of Custom Rubber Products, Inc.


SHSU Alumnus `89

When Russell Molina purchased Custom Rubber Products, a 41-year old family business, he knew it was a risky decision. However, within two years, the SHSU alumnus managed to significantly increase the number of jobs, customers and sales, taking the business to new heights. Molina will evaluate the risks and rewards involved in buying and selling companies.