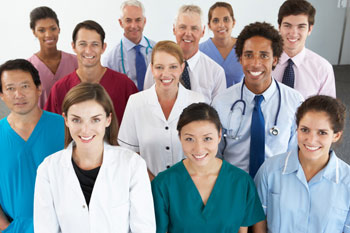 What is Professionalism?
Professionalism can best be defined through a collection of attitudes and behaviors that are expected of health professionals. The adaptation of a widely-regarded definition of medical professionalism provides a broad set of attitudes and behaviors of a health professional. (Adopted from: Swick, H.M. (2000). Toward a Normative Definition of Medical Professionalism, Academic Medicine, 75(6), 612-616).
Health and medical professionals subordinate their own interests to the interests of others.
Professionalism reflects the health and medical professional's open willingness to subordinate his or her interests to best meet the needs of individuals.
The expectation that a professional will subordinate self-interest has long been a hallmark of professions, and hence is the sine qua non of professionalism.
Health and medical professionals adhere to high ethical and moral standards.
The concept that professional work has a moral value compels the health professional to behave ethically in his or her personal and professional life.
Health and medical professionals have a duty to do right and to avoid doing wrong. Patients have a right to expect no less.
Health and medical professionals respond to societal needs, and their behaviors reflect a social contract with the communities served.
Any profession – not just the health and medical profession – best meets its obligations when it attends actively to its duty to address community and societal needs.
The Association of American Medical Colleges' Medical School Objectives Project report objectives state that a physician will demonstrate "knowledge of the important non-biological determinants of poor health and the economic, psychological, social, and cultural factors that contribute to the development and/or continuation of maladies," as well as "a commitment to provide care to patients who are unable to pay and to be advocates for access to health care for members of traditionally under-served populations."
Health and medical professionals demonstrate core humanistic values, including honesty and integrity, caring and compassion, altruism and empathy, respect for others, and trustworthiness.
Values such as compassion, altruism, integrity, and trustworthiness are so central to the nature of the physician's work, no matter what form that work takes, that no health and medical professional can truly be effective without holding deeply such values.
The practice of medicine is a human endeavor. To address the needs of their patients, physicians and other health care providers must ensure that humanistic values remain central to their professional work.
Health and medical professionals exercise accountability for themselves and for their colleagues.
Collegial interactions have traditionally typified a profession, but such collegiality should be used neither to mask ineffective or inappropriate practice nor to protect incompetent health and medical professionals.
Meaningful peer evaluation becomes one mechanism to enforce standards of practice and hence to exercise accountability.
Health and medical professionals demonstrate a continuing commitment to excellence.
The demands of intellectual work require that health and medical professionals maintain the highest standards of excellence through the continuing acquisition of knowledge and the development of new skills.
The exponential growth in biomedical knowledge makes it imperative that health and medical professionals be able to retrieve and use information efficiently, whether to make clinical decisions about individual patients or to address questions of a community's health.
Health and medical professionals exhibit a commitment to scholarship and to advancing their field.
If commitment to excellence has an internal focus, then a commitment to scholarship has an external focus.
The nature and the goals of health and medicine should commit professionals to advance the body of knowledge in their discipline, whether from cutting-edge research or from assuring that a practice setting is most conducive to cost-effective and efficient patient care.
Health and medical professionals deal with high levels of complexity and uncertainty.
Uncertainty and ambiguity have long characterized the practice of health and medicine and they will continue to do so despite advance in technology and in biomedical knowledge.
Work that is simple and repetitive, or that does not involve a great deal of judgment, does not require the independent decision making that is a hallmark of the health and medical professions.
Health and medical professionals reflect upon their actions and decisions.
Professionals must be able to reflect dispassionately upon decisions made and actions taken, not only to improve their knowledge and skills, but also to bring balance to the professional and personal lives.
The ability to think reflectively and critically is important to deductive reasoning, and health and medical professionals must demonstrate "the ability to reason deductively in solving clinical problems."
---
Professional Organizations
Membership and participation in professional organizations is an essential step in becoming a recognized expert. Professional organizations exist at the local, regional, state, national and international levels and there is typically many organizations serving a single health profession. Most US health professions do have a single national organization representing their profession. Below is a list of leading professional organizations in nursing, health and kinesiology.
Nursing
---
Health Services and Promotion
---
Kinesiology
---
Professional Events
Attendance and participation in professional events is required in some health professions and is strongly recommended to students for continuing professional development. Professional events are scheduled weekly across the country, as well as internationally, providing many opportunities for individuals to advance their professional knowledge and skills as they seek to become professional experts. Below is a calendar of some upcoming professional events over the next 12 months.
Medical & Allied Health Programs
Health
Kinesiology
Nursing
---
Free Online Courses
Universities from across the country are now providing free access to high quality courses in health sciences. The links below are to some of the organizations and universities now offering this free access. While these courses typically do not award college credit, they do provide an inexpensive opportunity to expand your knowledge and enhance your professional expertise.
---
Career and Professional Resources
Below are links to web resources that provide valuable information and advice related to career readiness and advancement.