Career Opportunities
One of the most commonly asked questions by students is, "What type
of jobs are available to people with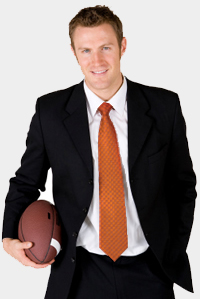 sport management degrees?" Most often, Sport Management graduates tend to be employed within the following three segments:
Professional Sports - League Offices, Player Union Offices, Individual Franchises, Facilities (Arenas/Stadiums)
Amateur Sports - Olympic Sports Organizations, Intercollegiate Athletics, Interscholastic Sports, Youth Sports, Regional Sport Commissions
Sport Agencies - Consulting, Sponsorship, Player Representation, Event Management, Broadcasting, Promotions, Licensing and Merchandising
Within these segments, graduates are prepared for careers in marketing, media and public relations, facility management, operations management, financial operations, legal aspects, ticket operations and sales, and membership service. They can also aspire towards a career goal of general manager of a sport team, athletic director of a college or high school, manager of a fitness center, or president of a sporting goods firm.
The opportunities are vast.
Sport Management Job Postings: