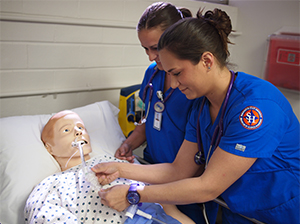 The College of Health Sciences values innovation and the entrepreneurial spirit by encouraging, supporting, and recognizing students and faculty who propose and/or develop more effective products, processes, services, or technologies for the health sciences and higher education.
The resources supplied here provide many examples of the innovative people and practices in health and medicine, as well as in higher education. Sam Houston State University also operates a business incubator and small business development center for entrepreneurs to design and launch innovative businesses.
Individual and team pursuit of innovation begins with a goal of solving a problem.
Innovations in Health Sciences
Links to organizational and individual innovators leading the current revolution in higher education are provided below.
Retail medical clinics are small medical practices located inside retail centers such as Target, CVS, and Walgreens and are designed to treat uncomplicated minor illnesses as well as to provide primary care and preventive services such as physical exams and chronic disease monitoring. There are now more than 6,000 health clinics in the U.S. located in chain pharmacies, supermarkets and discount stores. The most common visits to the clinics are for sore throats, ear infections, colds or flu and for physical exams. Walgreen, the largest U.S. drugstore chain, has about 370 Take Care Clinics. CVS operates more than 650 clinics called Minute Clinic in the U.S. Target Corp. and Kroger Co. are among the other retailers that have similar health clinics in their stores.
Medical tourism (MT) involves patients travelling from highly developed nations to other areas of the world for less expensive medical care. Medical tourism is different from the traditional model of international medical travel where patients generally journey from less developed nations to major medical centers in highly developed countries for medical treatment that is unavailable in their own communities. Health care services typically sought by travelers include elective procedures as well as complex specialized surgeries such as joint replacement (knee/hip), cardiac surgery, dental surgery, and cosmetic surgeries. Travel for medical procedures is sometimes accompanied by recreational travel.
Accountable Care Organizations
According to the Centers for Medicare and Medicaid Services, Accountable Care Organizations (ACOs) are groups of doctors, hospitals, and other health care providers, who come together voluntarily to give coordinated high quality care to their Medicare patients. The goal of coordinated care is to ensure that patients, especially the chronically ill, get the right care at the right time, while avoiding unnecessary duplication of services and preventing medical errors. When an ACO succeeds both in both delivering high-quality care and spending health care dollars more wisely, it will share in the savings it achieves for the Medicare program. ACOs are a central organizational structure within the Affordable Care Act.
Internet-based social networks such as Facebook, Twitter, YouTube, blogs, and forums and discussions groups are impacting every facet of communications in our society, including consumer health. Some estimates show that as many as one third of Americans now use the internet to research, find fellow patients and discuss their conditions, while 36% of patients evaluate other patient's knowledge and experience before making health care decision. There is considerable potential value in the use of social networks to empower and transform consumer health care decisions and behavior and advance the quality and safety of care nationwide.
The patient-centered medical home (PCMH) is an innovative team based health care delivery model led by a physician, physician assistant or nurse practitioner that provides comprehensive and continuous medical care to patients with the goal of obtaining maximized health outcomes. The PCMH model of care also emphasizes care coordination and communication.
Comparative effectiveness research (CER) is a method of systematic research comparing different interventions and strategies to prevent, diagnose, treat and monitor health conditions to inform patients, providers, and decision-makers, about which interventions are most effective for which patients under specific circumstances. The Institute of Medicine committee has specifically defined CER as "the generation and synthesis of evidence that compares the benefits and harms of alternative methods to prevent, diagnose, treat, and monitor a clinical condition or to improve the delivery of care. The purpose of CER is to assist consumers, clinicians, purchasers, and policy makers to make informed decisions that will improve health care at both the individual and population levels.
One of the most promising and intriguing innovations in health care is the use of 3D printing devices and technologies. Standard 3D printing, also known as additive manufacturing, is a rapidly emerging process of making three dimensional solid objects from a digital model. 3D printing uses additive processes, in which an object is created by laying down successive layers of material such as plastic, ceramics, glass or metal to print an object. While 3D printing has already been used successfully used in medicine to make prosthetic limbs, custom hearing aids and dental fixtures, the technology is now being used to create more complex structures. For example, Organovo, a San Diego-based company that focuses on regenerative medicine, is using 3D printers called bioprinters, to print functional human tissue for medical research and regenerative therapies. Many believe that 3D printing-related technologies could revolutionize some elements of healthcare.
Innovations in Higher Education
Links to organizational and individual innovators leading the current revolution in higher education are provided below.