Susan Reichelt, PhD, Department Chair:

Dr. Susan Reichelt joined Sam Houston State University as an Associate Professor and Chair of the Family and Consumer Sciences department in July, 2015. She has an undergraduate degree in Home Economics Education from the University of Wisconsin-Stevens Point, a master's degree in Computer Education from Florida Institute of Technology, and her Ph.D. in Family and Consumer Sciences Education from Iowa State University.
Dr. Reichelt has been employed in the field of family and consumer sciences education for over 30 years, including experiences as a cooperative extension agent and university educator. Her university experience includes program development in two international settings. She was the founding faculty member of a Family Sciences program at Zayed University in the Middle Eastern country of the United Arab Emirates and completed a Fulbright Scholar experience at the University of Ljubljana in Slovenia.
Dr. Reichelt's research interests include financial literacy of young adults, integration of effective learning strategies in college level courses, and international family and consumer sciences programs.
Originally a Wisconsin native, she and her husband Blane, live in Montgomery, TX along with their 15 year old Golden Retriever. Her daughter Kellee, son-in-law Scott, and grandson Sage live in Indiana.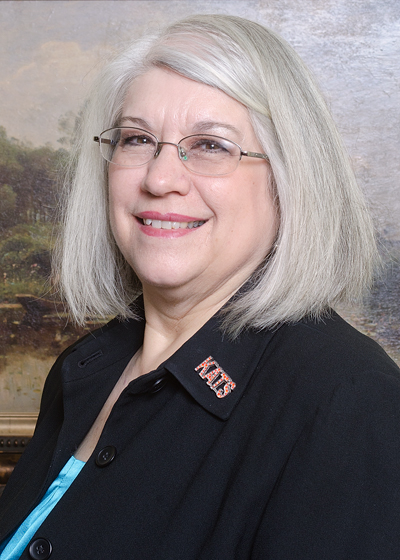 Janis White, PhD, CFCS:
Dr. Janis White, Associate Professor, has fashion merchandising experience with Leonard Bros. Department Store (now Dillard's in Fort Worth) and Younkers in the Midwest (Iowa). She has been teaching in the Fashion Merchandising program at SHSU since 1989 and received her Ph.D. from Texas Woman's University in 1994. Her research interests include sustaining strong programs within Family and Consumer Sciences discipline, the 20th Century Costume Collection that is housed in the department, documenting the impact of study abroad experiences among college-age students, and clothing accommodations for child with specific illnesses. She is married to SHSU chemistry professor Dr. Rick White, and they have two grown children and two grandchildren. They enjoy traveling and have introduced over 100 students to Germany and France through the course, "Discoveries in Chemistry, Textiles, and Nutritional Sciences."
Valencia Browning-Keen, PhD, RD, LD, DPD Director, Graduate Director: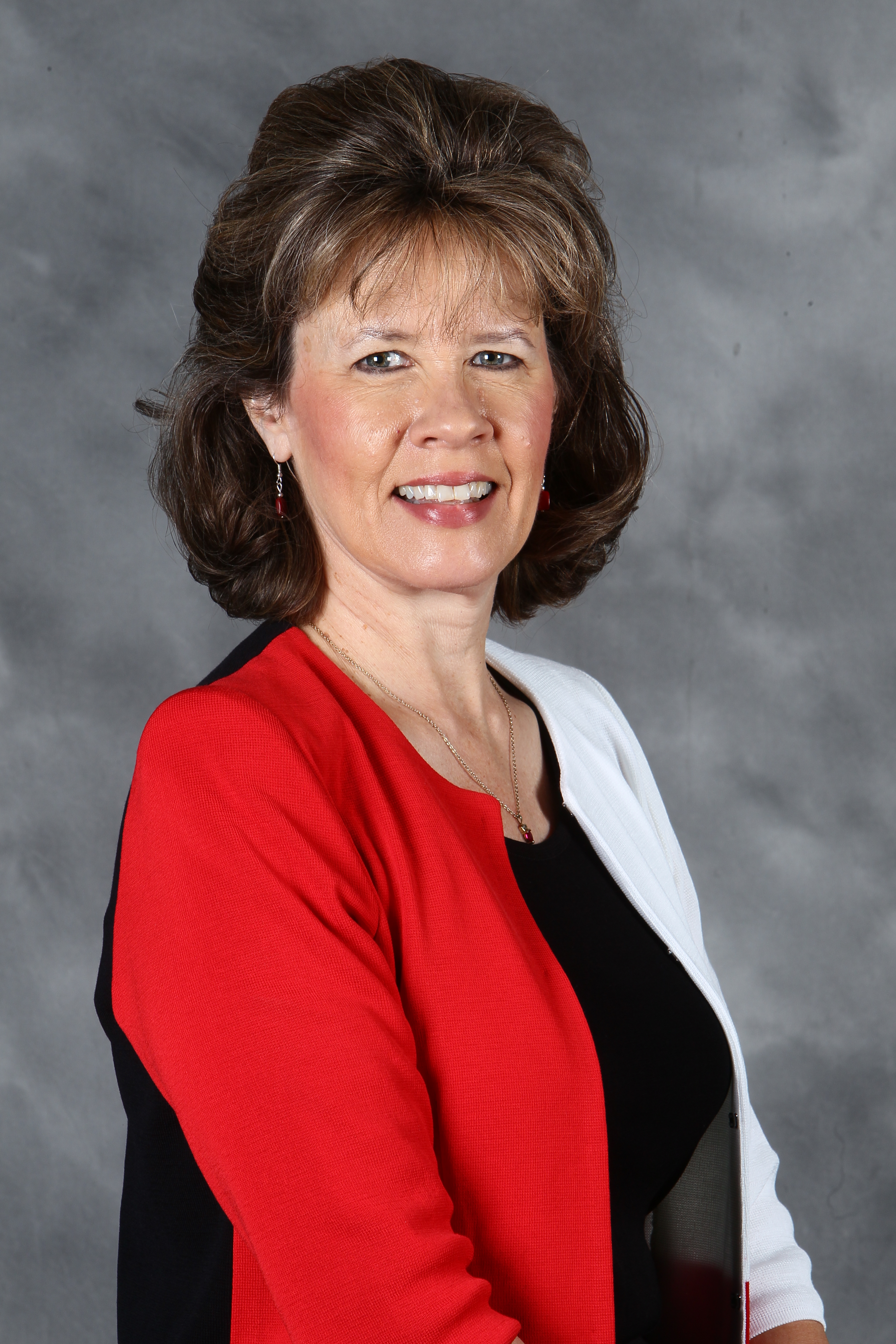 Dr. Keen has been with Sam Houston State University for three years. Dr. Keen is a graduate of Lipscomb University in Nashville, TN; Case Western Reserve School of Medicine of Cleveland, Ohio; and Texas Woman's University in Denton. Her degrees are in nutrition and institutional administration. In addition to being a clinician and educator as well as a Registered and Licensed Dietitian, she has been a part of various non-profit organizations that are spiritual and related to medical nutrition therapy in nature. She is the founder of The Ronald Wayne Keen Memorial Foundation, a nonprofit 501c3 in honor of her late husband, for minor's relief. Her research efforts have been varied, mainly focusing on systematic changes in the health care system for access to services for the elderly, childhood obesity, postpartum and nutrition education. She enjoys study abroad classes and working with undergraduates as well as graduate students in the Food Science and Nutrition programs. She currently serves as the DPD Director for the undergraduate Academy of Nutrition and Dietetics-accredited program at Sam Houston State University. Students say they enjoy working with Dr. Keen because "she cares about you as a person first and then helps you achieve your goals as a professional." In her spare time, Dr. Keen enjoys spending time with family, playing musical instruments, singing, writing poetry, enjoying her animals, gardening and cooking for family and friends. Her parents and grandparents were wonderful, hospitable spirits who enjoyed music, great food and laughter!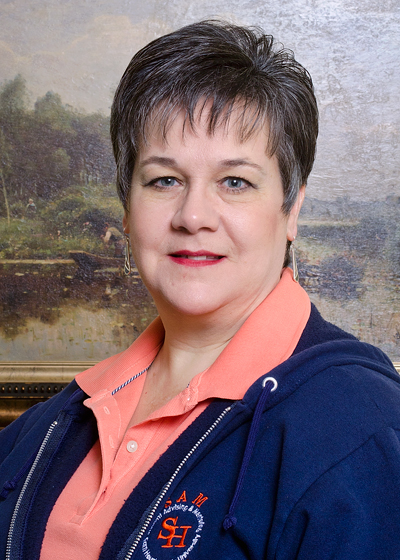 Laura Burleson, PhD, Allied ASID, IDEC:
Dr. Laura Burleson, Assistant Professor and Interior Design Program Director in the Department of Family and Consumer Sciences, is a graduate of Texas Tech University with a Ph.D. in Environmental Design and holds the M.S. and B.S. Degrees in Interior Design from Oklahoma State University. Dr. Burleson is an Allied Member of the American Society of Interior Designers' Texas Gulf Coast Chapter, as well as a member of the Interior Design Educators Council. She is experienced in both residential and commercial design. Her experience includes projects in Washington, DC, as well as Houston and its northern suburbs. She has participated in numerous show house spaces, often coordinating work with students in her studio classes and in the ASID student organization. She and Dr. White have worked together on several "Fantasy Gala" designs incorporating materials normally used for interior design into fantasy costumes as part of fundraiser efforts for cystic fibrosis.
James Landa, MFA: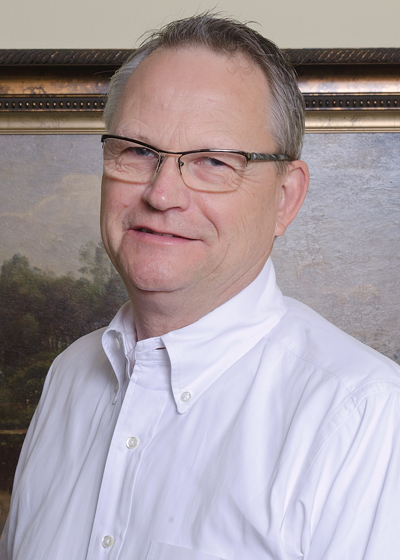 Since graduating from the University of Georgia, Athens, James Landa has been involved with several aspects of interior design. He has taught full-time at SHSU since 2009, after being a department chair at a private design college and then owning a bath/kitchen/design business in Chicago for eight years. Teaching has always been a passion for him, even teaching while an undergraduate at Colorado State University where he earned his BS in interior design. Landa has practiced and taught in Georgia, Indiana, Illinois and now Texas. He is involved in research concerning the future of interior design education, expansion of FCS programs nationwide and the living arrangements of the Baby Boom Generation. He teaches upper level ID courses such as senior design studio, lighting, professional practice, presentation techniques and a freshman level design and art course.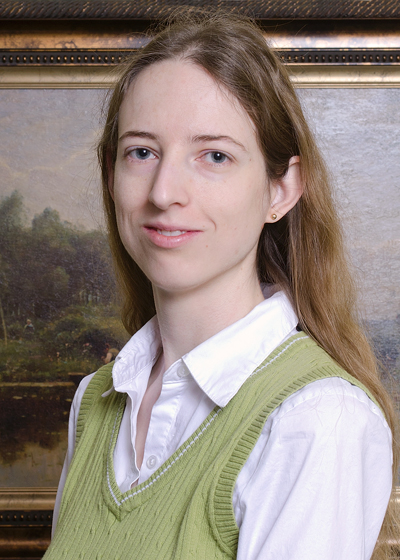 Heather Frazier, MS, RD, LD, DI Director:
Heather Frazier, Dietetic Internship Director/Clinical Assistant Professor is an alumna of Sam Houston State University, having earned a degree in Environmental Science in 2002. Her work experience included time at Entergy and St. Luke's The Woodlands Hospital. During her time at St. Luke's, she discovered a passion for nutrition which led to her being awarded a Master of Science in Dietetics Degree in 2006. She then furthered her work experience as a Clinical Dietitian at Huntsville Memorial Hospital, which allowed her to merge her environmental background with the field of nutrition. Her career path at Huntsville Memorial turned in a different direction as she became an adjunct faculty member at Sam Houston State University. She soon transitioned to a full-time teaching position at SHSU where her knowledge and passion could be most effective educating the next generation of dietitians.
Shelby Brock, MS, RID, RAS: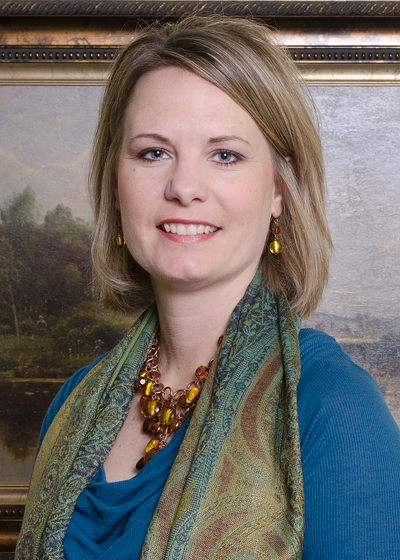 Shelby Brock, Lecturer, is an alumna of Sam Houston State University, having earned her bachelor's and master's degrees in Interior Design. She is a registered interior designer with the Texas Board of Architectural Examiners and also is also a Registered Accessibility Specialist (RAS) with the Texas Department of Licensing and Regulation. She has years of private practice experience in both commercial and residential design, construction, and project management, including The H.E.A.R.T.S. Veterans Museum, the Walker County Courthouse renovation, Faith Lutheran Church and school addition, all constructed in Huntsville; as well as the Grand Station Entertainment Center, constructed in College Station. She began teaching for the Department of Family and Consumer Sciences in 2006 and her primary teaching interests are computer-aided drafting, junior studio, and codes, although she has taught most of the courses in the interior design curriculum. She says she strives to bring the real world into the classroom from a firsthand perspective that enables the student to learn from a different perspective and believes that an interior design student graduating from SHSU can stand up against any other school to get that "dream job."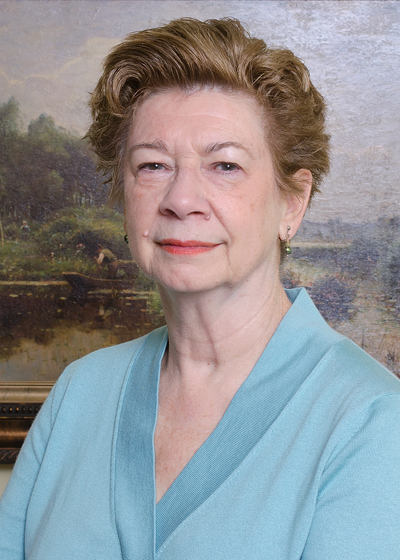 Harriet Griggs, PhD:
Dr. Griggs knew from high school that she wanted to teach. She holds a Bachelor of Science degree from Baylor University in Home Economics; a Master of Science degree from Oklahoma State University in Clothing, Textiles and Merchandising; and a Doctor of Philosophy degree from Texas A&M University. During her teaching path, which began with a graduate teaching assistantship at Oklahoma State, she has taught university students in the area of clothing, textiles and merchandising. She worked in product development and marketing in Dallas between the Master's and Doctorate degrees. The teaching experience that followed included five years at SHSU, and fifteen years at the University of Houston. Since her happy return to SHSU, she and Dr. Janis White are now known to the department as the "fabric nerds". She has one daughter whose job responsibilities include the style blog for the Austin Chronicle and who helps keep her current on the latest trends.
Ryan Fenley, MHM, MBA: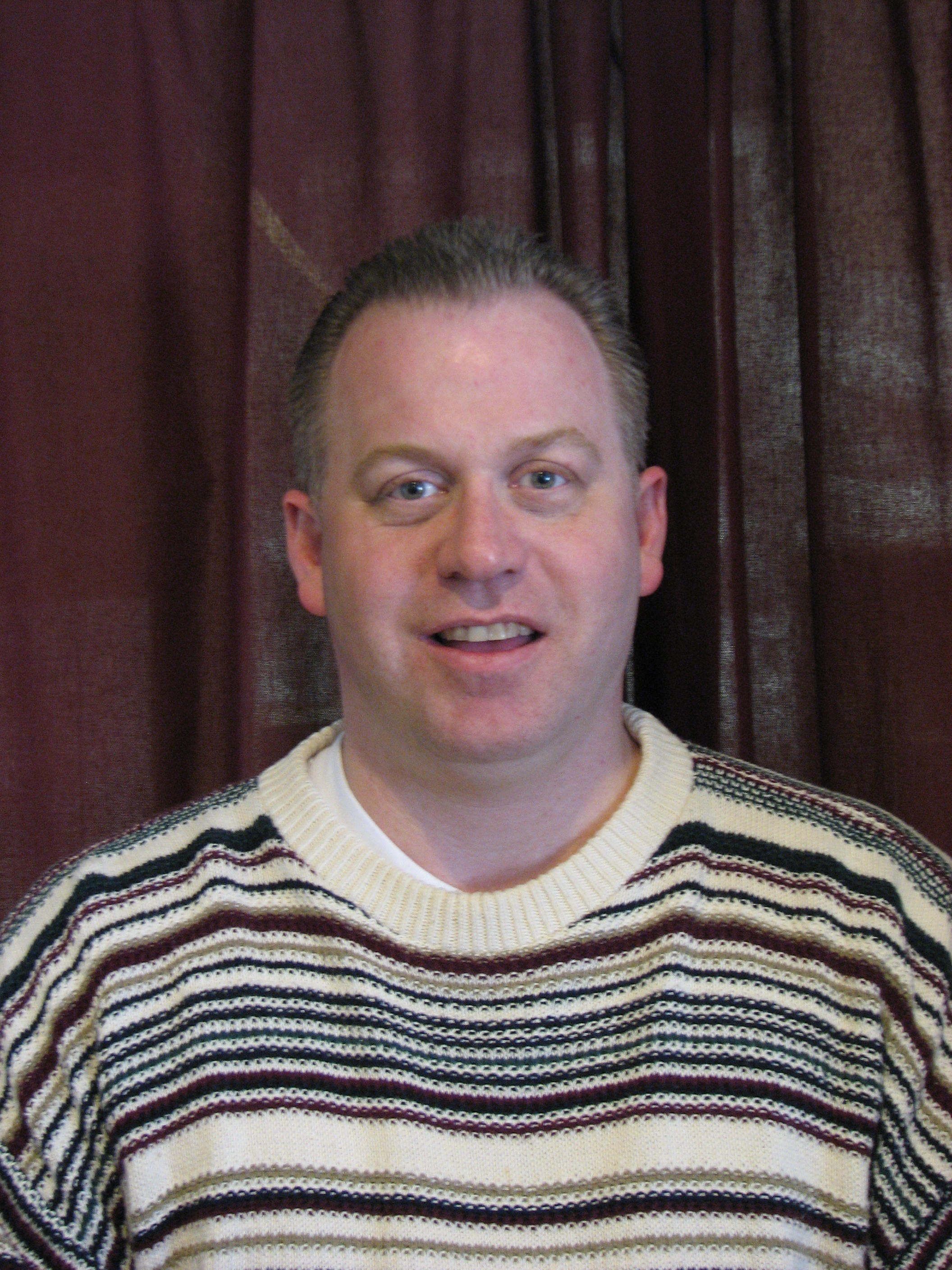 Upon graduation from Sam Houston State University, Mr. Fenley entered the restaurant and hospitality industries where he has accumulated over 20 years of professional experience. He also earned the Master of Hospitality Administration (MHM) degree from the Conrad N. Hilton College of Hotel and Restaurant Management at the University of Houston. His MBA with a concentration in Hospitality and Tourism is from Columbia Southern University in Orange Beach, Alabama. He teaches in the areas of hospitality and food service systems and is currently working on a Doctorate of Business Administration with a focus in Hospitality and Tourism, also from Columbia Southern. His real-world experiences provide a rich background for the areas in which he teaches.

Carol Smith, MA:
Ms. Smith has bachelor's and master's degrees in Vocational Home Economics from Sam Houston State University. She taught in Home Economics at Huntsville High School and was head of that department for 15 years, then served Huntsville Independent School District as Career and Technology Education Director for 16 years. For one-and-a-half years she served the Department of Family and Consumer Sciences as its Teacher Educator. For the past 4 years, she has been President and CEO of the local Huntsville-Walker County Chamber of Commerce. She continues to teach for the department on a part-time basis.
Trish Ramsay, MFA
Professor Ramsay teaches Introduction to Basic Design in the Department of Family and Consumer Sciences. She received her BFA from University of the Arts in Philadelphia, PA, and MFA from Syracuse University. Trish has taught in the areas of 2D and 3D Design, Metalsmithing, Fibers, Sculpture, Art Appreciation and Senior Portfolio. Her teaching experience includes Columbus State University in Georgia, where she was Assistant Professor of Art (2002-2008), Southeastern Louisiana University (2008-2011), and Lone Star College (2012-2013). Her artwork spans a variety of media and formats: textile and mixed media installation, wearables and works for the wall. Trish's work has been exhibited nationally and internationally, and is part of the Georgia World Congress Center Collection inAtlanta, GA. She has been published in American Craft Magazine and "500 Felt Objects" from Lark Books. Her artistic research has led her to work in Kiryu, Japan and in Fiskars, Finland. She lives in Huntsville with her husband, Edward Morin, Animation Professor at SHSU, and their daughter.
Samantha Kropik, Administrative Associate/Assistant to Chair: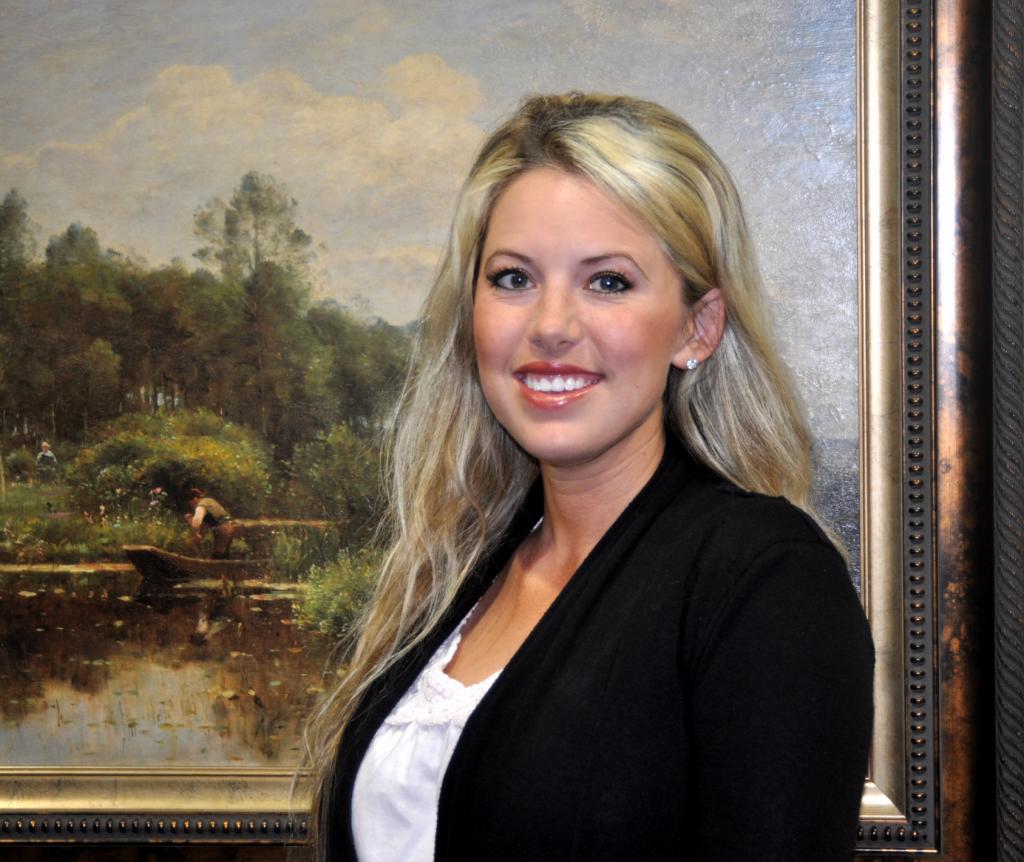 Since graduating from Hill College with her Associate's degree in Business Administration, Mrs. Samantha Kropik has worked at Texas A&M University in College Station for 4 years as a Financial Specialist in Student Debt Management within the Student Business Services. Mrs. Kropik is now the Administrative Associate/Assistant to the Chair for the Department of Family and Consumer Sciences at Sam Houston State University. In her spare time, she enjoys spending time with her family and friends, riding her horses, and shopping.

Penelope H. Meyers, MA, RDN, LD
Penelope Meyers, Lecturer, is an alumna of Sam Houston State University, having earned her Bachelor's degree in Food Science and Nutrition and a Master's degree in Family and Consumer Sciences. Her work experience as Registered Dietitian has included working as a Clinical Dietitian at Huntsville Memorial Hospital and as Clinic Manager for the Huntsville WIC office. She has been a Registered Dietitian since 2004. She has been teaching at SHSU since 2012.
Natalie D. Knesek, MS, CFCS:
Currently working on her doctorate in Family and Consumer Sciences Education at Texas Tech University, Mrs. Knesek's research interests involve sibling dynamics and bullying. She holds a Master of Science in Child and Family Studies from Southwest Texas State (Texas State University) and a Bachelor of Science in Home Economics with Secondary Certification from Tarleton State University. Along with serving as an online instructor for Sam, Mrs. Knesek is the sole proprietor of Licorice and Lemon Drops Old Fashioned Candy Shop a brick and mortar and e-commerce business in Shiner, Texas. Her past work experiences include serving as an online adjunct instructor for Tarleton State University, administration of non-profits, serving as a County Extension Agent, and teaching Junior High and High School Family and Consumer Sciences and Theater Arts.
Kimberly Townsend, MS, RD, LD:
Mrs. Kimberly Townsend, adjunct professor, has been teaching at Sam Houston State University for 3 years. She has 2 years of hospital food service experience and another year of service in food operations/culinary instructor. She received Cum Laude from Stephen F. Austin State University with a Bachelor's degree in Dietetics and a minor in Science in 2006. She was also in Phi Upsilon Omicron, Family and Consumer Sciences honor society, as well. She graduated from Sam Houston State University in 2009 with a Master's in Dietetics and a minor in Business. She has been a registered dietitian since 2010.
Sonya Miller, Administrative Assistant II:
Sonya Miller joined the Department of Family and Consumer Sciences as an Administrative Assistant II on October 1, 2015; however, she has been among the staff of Sam Houston State University for over eleven years. Having previously worked in the Office of the Registrar and Clinical Psychology Doctoral Program/Psychological Services Center, she has worked closely with students, faculty, staff, administration and the community. She has been called a "problem solver" and will always go above and beyond to assist others.