Ashley Ward: A Limited Edition Alumnus
by Kim Mathie (kcm020@shsu.edu)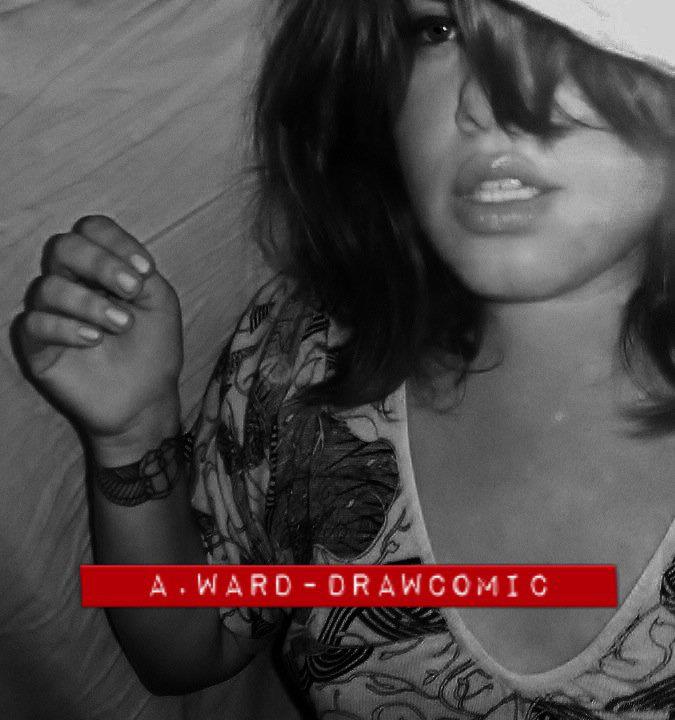 Ashley Ward (pictured left) barely knows how to use a computer. Trained as a classical painter but making a living as a screen printer, there's only thing she would tell her college self to do differently: "Take a printing making class!" In this digital age, that's very telling.
"I was stupid and thought I was going to be a classical painter in college so I never took print making classes," said Ward. "If the college version of me talked to me today, she would be like 'what are you doing?' I had absolutely no idea I'd be doing screenprinting but I love it. It's been an amazing job."
Ward graduated from Sam Houston in 2007 with a degree in Studio Art with an emphasis in painting. At only 28, Ward runs a successful art business, Draw Comic Design in Houston. She creates limited edition silkscreen posters and other artwork.
"My business is kind of special in that I don't use computers at all," said Ward. "Everything is still hand drawn. I have a light table and a drafting table from the 50s and it's all hand drawn from beginning to end. The only time I scan an image is when it's completely done and I put in on my website."
At first she was doing posters just for friends but when they posted her work on the web, others began to take notice.
"Now instead of bands contacting me, someone from the record label would contact me," said Ward. "Now I do merchandise too. T-shirts, album artwork, koozies, anything they would sell at a merchandise table."
Eventually she got a small business license, and called her business Draw Comic Design, a play on her name—Ward spelled backward is draw—that she used in art class.
"In one class, we had to create a comic book and the design name for the comic books was Draw Comics," said Ward. "Once you put that on a tax form, it's kind of your name!"
Starting the business was easy; learning how to screen print was a completely different matter.
"When I first started illustrating posters, I was doing them with a pencil and Prismacolor makers, which is what I was really into in college," said Ward. "But silk screen is where the money is. Cool hipsters, which is my demographic, want limited edition, hand pulled silk screens."
Ward taught herself how to silk screen through YouTube videos and Wikipedia.
"There was a lot of trial and error," said Ward. "It took me about a year and half to perfect it but that's now what I do."
She recently was invited to the Screen printers Ball in Houston where she's met a lot of other screen printers.
"They think I'm insane to do it this way, but I think it's worth it," said Ward. "I mess up a lot and sometimes the chemicals don't work right or sometimes I develop it too long and I have these mistakes that turn out amazing in the finished product that you would never get in Adobe Photoshop or something like that.
Ward credits her classes and her close relationship to her SHSU art professors for opening new avenues for her artwork.
"I was a really intense painter until I started taking classes from Matthew Guest," said Ward. "He taught all these really strange classes like self-publishing and I got into drawing, illustrating and comic books."
But it wasn't just Matt.
"It was all the professors. The perspectives were all so incredibly different but they were all still friends. They really took us under their wing," said Ward. "They changed who I am and really developed me as an artist."
After graduation Ward traveled in Europe with her "twin sister" Tanja visiting contemporary art museums, which fueled her interest in poster art.
When they returned to the states, Ward moved to Austin. Instead of jumping right into the art community, she spent the next year focused on remodeling a 1942 house she bought.
"My family gave me money to buy property as an investment in my future," said Ward. "I refused to do anything I didn't enjoy so I think my parents were scared that if I didn't make it as an artist I would just wind up homeless or living with them the rest of their lives!"
Fortunately, that didn't happen. After spending a disappointing four years Austin, Ward realized she'd rather be in Houston.
"I just really love the city, that's where I'm from," said Ward. "We're really rich with a lot talent right now. It's really an exciting time to be working in this industry."
And Ward has the busy schedule to prove it.
"I still make classical painting," said Ward. "I'm making twelve pieces right now for a show in December. It's like riding a bike. I'm also doing a cover for novel and next fall, will be illustrating a graphic novel."
Ward is becoming a known artist in Houston circles, often finding herself meeting people who already know who she is.
"It's strange to be talking to someone and they know who I am but I don't know who they are. That's a great thing about being an artist and anyone who says it's not is a complete liar. It's very cool."
Learn more about Ashley Ward by visiting her website Draw Comic Designs at www.drawcomicdesigns.com