The Air Up There: MFA Candidate Alicia Carlin
by Kim Mathie (kcm020@shsu.edu)
Alicia Carlin, 27, dreamt about a lot of things as a kid--dancing as the Sugar Plumb Fairy, for one. Since she was 3 years old, she couldn't imagine a day or a future without dance. What she didn't dream about was dancing on a building while suspended 17 stories in the air.
"It was like being a pendulum in space," said Carlin about her experience. "You have the limits of the harness, the rope, the building, but when you push out, there's a freedom there. Then the pendulum pulls you back in. So it's fleeting."
Carlin spent her formative years training in the "traditional" modes of dance: ballet, jazz, modern, but it wasn't until she saw Austin-based Blue Lapis Light perform their site-specific piece "Constellation' on the Federal Building in downtown Austin that she realized there was something more.
"I had goose bumps the entire time watching," said Carlin. "In my mind, I thought, 'I have to do this.'
She was fortunate enough to meet Sally Jacques, the artistic director of Blue Lapis Light, who encouraged her to attend auditions she was holding the following week.
Although Carlin graduated a few months earlier with her BFA in dance performance (2006)she had little experience in aerial dance.
"I took an aerial course at the University of Wyoming while the SHSU dance department was there for the American College Dance Festival,"said Carlin. "I had about an hour and half of experience before going in to audition!"
The audition involved following movements and improvising, all the while suspended by a harness.
"I believe my background and training carried me through the audition, rather than circus tricks," said Carlin. "I got into the company."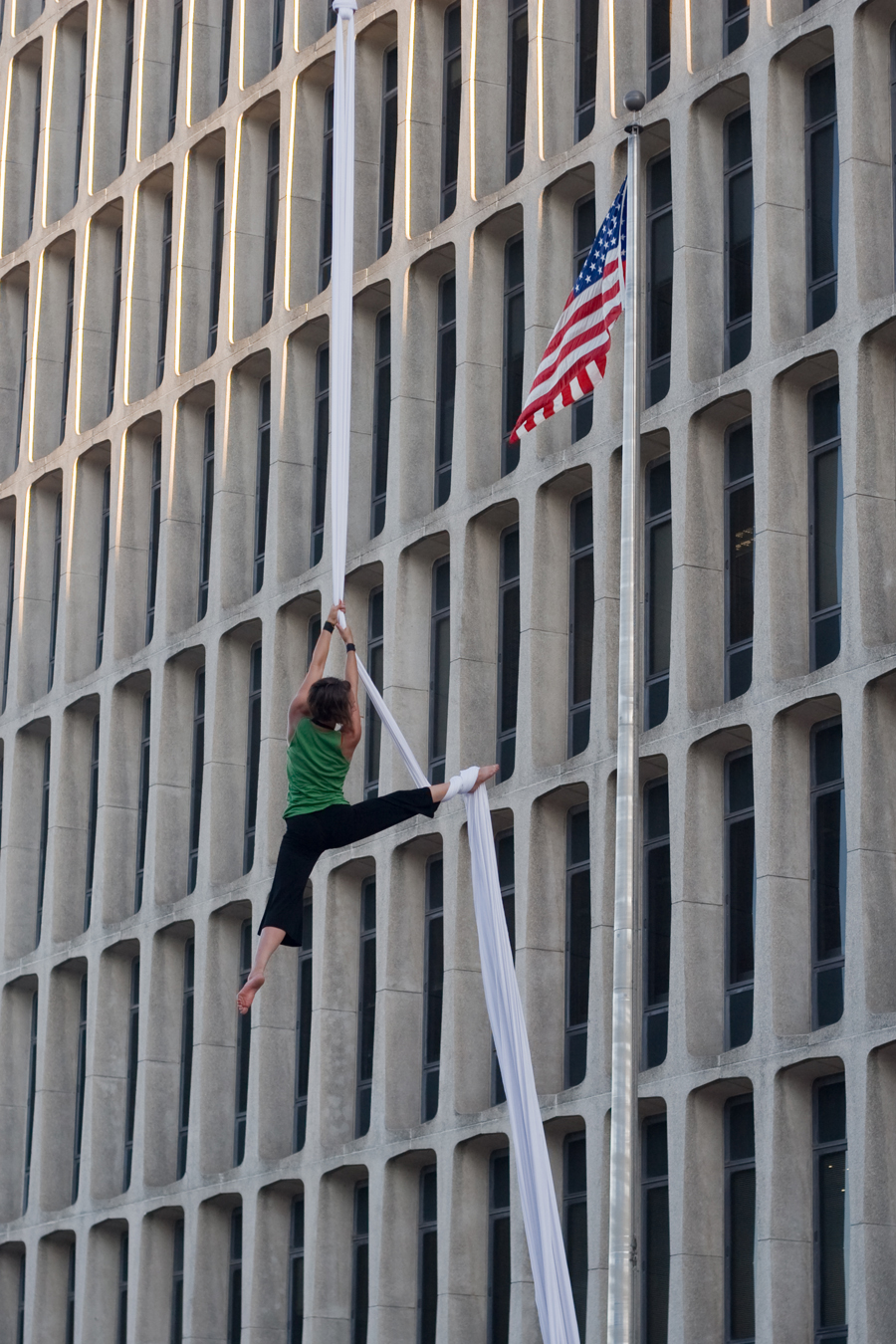 Carlin also credits her dance education at SHSU for preparing her--she was the only one who came to the audition with a headshot and resume.
Carlin's first performance was in "Illumination," performed at the Austin Seaholm Power Plant before it was converted into a shopping center.
"I've never really been afraid of heights," said Carlin. "I never really thought twice about it. I stepped to the edge, did what the rigger told me to do and just went over."
Harness work eventually evolved into working on silks--long swaths of cloth approximately 60-feet long. It's a skill that required an even bigger trust—in herself, a necessity in performing in 'Impermanence', which had her hanging between two buildings over a courtyard.
"The only thing holding you on that cloth is you and your own strength. You're in total control of staying in the air or falling," said Carlin. "I knew there was no way I'd let go."
For Carlin, everything she learned from her anatomy and physics classes—required courses for all dancers at SHSU—came back to her.
"Especially with the cloth, your always trying to find that balance, ways to rest, relatively speaking, using your body weight," said Carlin. "You're muscles are always striving for equilibrium."
It's not easy work and can be physically grueling.
"My forearms would get tired, the cloth would pull at my feet and sometimes burned but the longer I trained, the more my body adapted and created a tolerance. You have to get past that level so you can focus on the artistry," said Carlin. "All forms of dancing cause pain at some point or another. Put on a pair of pointe shoes!"
Still, for Carlin, it all changes once she's in front of a live audience.
"Something clicks on stage," said Carlin. "The energy carries you through because it's about the performance."
Carlin hopes to bring this enthusiasm back to the Sam Houston Dance Department as a graduate student.
"There's a lot of interest in aerial work within the department," said Carlin, who first introduced students and faculty to her new skills during an alumni weekend.
"Ten years ago I would not have said this—that I'd be back at Sam Houston, taking graduate classes and teaching aerial dance," said Carlin.
"I found my niche," said Carlin. "For me it comes easily but it's really rewarding to see students who think it's hard, get up in the air performing. It's that 'Aha!' moment I really love."
Top Photo: Alicia Carlin gets help into her harness from the professional rigger. Photo by Thomas Athey
Bottom Photo: Alicia Carlin rehearsing on the silk cloth for Impermanence. Photo by Thomas Athey