Dr. Janis White attends AAFCS-TX Affiliate Board Meeting in San Antoni

o
Drs. Paula Tripp, Harriet Griggs and Janis White recently attended the annual meeting of the AAFCS – Texas Affiliate in Waco, Texas. Dr. White and Stacey Johnson gave an overview of the department; Dr. White summarized the programs offered and Stacey spoke on what it means to be a part of the department. Watch the video here: http://www.youtube.com/watch?v=fN_KZQmgZ_0
Dr. Paula Tripp was selected by SHSU's on-line department (DELTA) as the first featured on-line instructor for their webpage. She was asked to discuss merits and differences in teaching on-line and face-to-face. Her interview about on-line instruction was recently posted to SHSU On-line. View the entire interview at: http://www.youtube.com/watch?v=hq2uE7XCbfg&hd=1
Dr. Janis White accompanied 10 fashion and general family and consumer sciences majors to the 26th Annual Career Day sponsored by Fashion Group International of Houston. It was held at the Hilton Hotel on the University of Houston campus on March 5, 2012.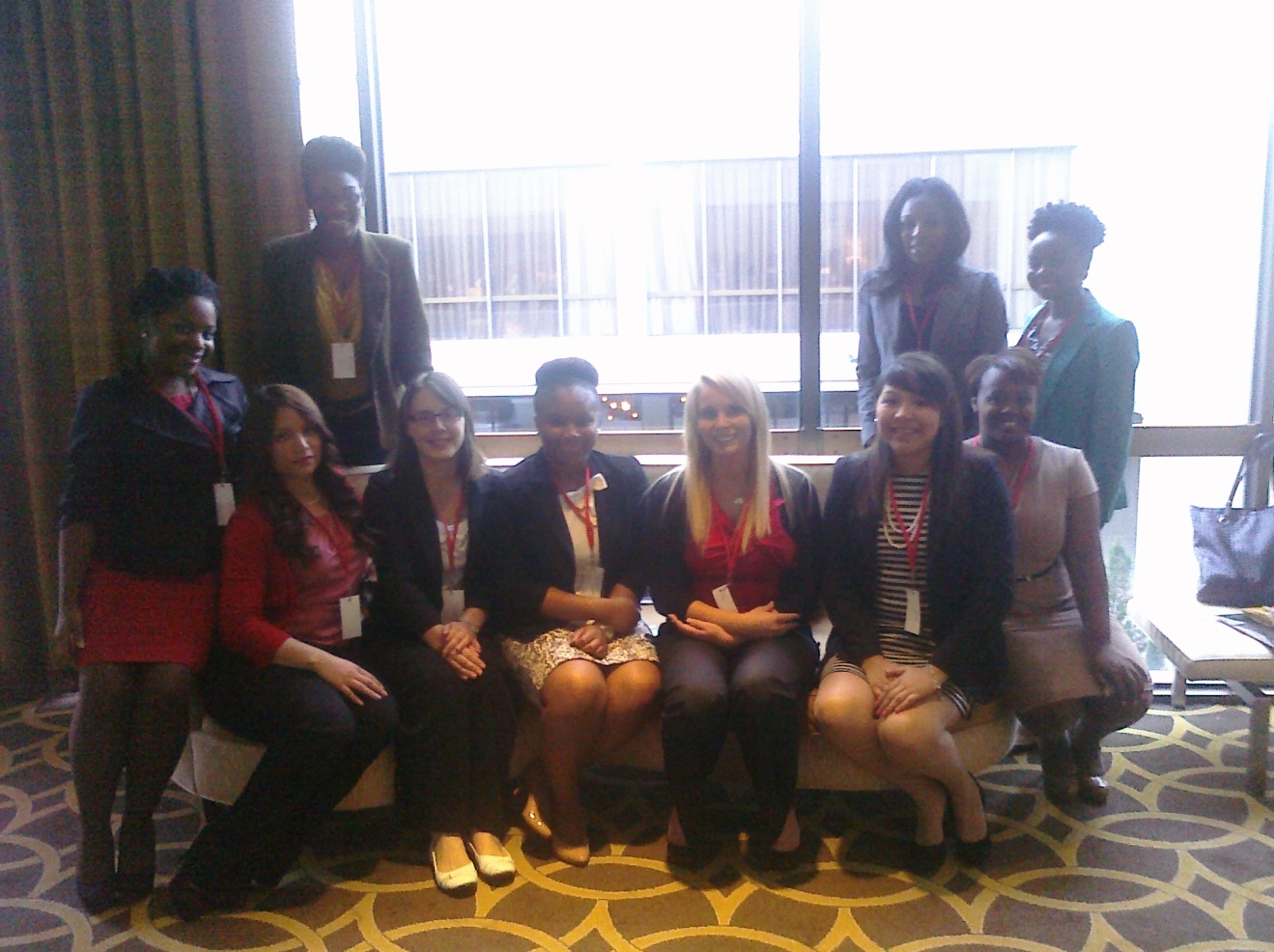 Dr. Janis White and Mr. James Landa went with a group of faculty from the College of Humanities and Social Sciences to the Houston Hispanic Forum's Career and Education Day on Saturday, February 25 at the George R. Brown Convention Center in Houston. They visited with high school students interested in majoring in one of the programs within the department. Mr. Landa drove the college's new van!
On Monday, March 5, eight new members were inducted into the Kappa Alpha Phi chapter of the Kappa Omicron Nu Honor Society. The new members shown below are Belinda Bass, Latrice Gentry-Brooks, Emily Bailey, Kevin Stovall, Alexis Cabanas and Aausha Nepal. New members inducted but not pictured include Kendall Stelwagen and Nicole Davis. Advisor Shelby Brock stated, "We are very proud of our new members and excited about the continued growth of the KONu Chapter in the Department of Family and Consumer Sciences at SHSU."