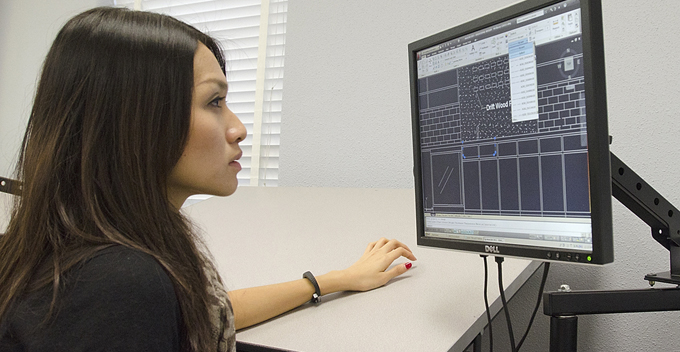 Accredited by the Council for Interior Design Accrditation (CIDA), the interior design program offers both the Bachelor of Science (BS) and the Bachelor of Arts (BA) degrees. The BA degree includes four (4) semesters of foreign language and a three-hour philosophy course. The BS degree includes four (4) semesters of natural science and six (6) hours in mathematics. Throughout the program, students earn 42 advanced hours (3000 to 4000-level) and graduate with 120 minimum credit hours.
A professional interior designer is defined by the National Council for Interior Design Qualification (NCIDQ) as "qualified by education, experience, and examination to enhance the function of quality of interior spaces for the purpose of improving the quality of life, increasing productivity and protecting the health, safety and welfare of the public." In practice, interior design is about problem-solving, creativity, being client responsive and continually learning new concepts and products available to designers. Interior design greatly affects the efficiency of corporate offices, influences humans psychologically and emotionally and provides interior spaces people want to be in. Today, there are very few commercial interior spaces that do not have a professional interior designer overseeing the process to ensure good space planning, meeting codes and meeting budgets.
Interior design education at Sam Houston State University provides a broad experience in design, critical thinking, computer graphics, codes, history, materials, sustainability, space planning, construction and overall design competencies. During the program, emphasis is placed on designers to be energy and sustainability conscious. Evidence-based design is widespread in the profession, especially in healthcare design, which uses past experiences, research and practice-set-precedence for future buildings and interiors. Interior designers never stop learning about new ways to do things, new products or new workplace practices. Computer knowledge is imperative with programs such as Revit® and its building information system (BIM) accomplishing tasks and changes in seconds which took hours just a few years ago. The coursework in the program will provide the foundations for the needed skill set to have a productive career within the field.
Interior design courses are a continual building process, learning fundamentals first and concluding with a senior capstone project. Courses must be taken consecutively, through a minimum of six semesters, to remain on track in the program. Students who plan to transfer should seriously review the course equivalencies as they enroll in courses at their college to be sure the credits will transfer. Majors must maintain a 2.0 GPA in their interior design and related courses to be eligible for graduation.
Flexibility
A degree in interior design is one of the most flexible degrees. Graduates can practice in any of the following specialties:
Corporate – offices
Hospitality – resorts, theatres, casinos, hotels, restaurants
Healthcare – hospitals, clinics, long-term care facilities
Educational
Retail – boutiques, malls, stores,
Residential – homes, apartments, condos
Historic Preservation
Facility management- in-house designer, often supervising designers
kitchen and Bath design
Lighting design
Code Specialist
Project Manager
Sales – retail, sales reps for products, specialty sales
Mission & Goals Statement

Interior Design Program, Sam Houston State University

The mission of the interior design program at Sam Houston State University is to provide an academic background preparing students to think critically, creatively, and independently, enabling them as beginning professionals in interior design to produce quality work and serve the public through protecting health, safety and welfare in a diverse marketplace.

To achieve this mission the program has the following goals:
To produce graduates with knowledge and skills necessary to practice as entry-level interior design professionals within a diverse marketplace. These graduates will progressively build upon their academic knowledge with work experiences which will make them qualified to become an NCIDQ-eligible design professional.
To continuously assess the curriculum, ensuring content meets industry and CIDA expectations.
To develop design projects and assignments relevant and current to real world situations.
To maintain a level of quality for all course work by requiring students to achieve a minimum grade of "C" in all required FACS, ARTS and ITEC courses, and to complete prerequisite courses in order as they progress through the curriculum.
To uphold and continue to build strong relationships with industry professionals in the region.
Student Achievement Information
Retention Rate
78% of student enrolled in the Spring 2013 returned to continue in the interior program in the Fall 2013 semester.
Graduation Rate and Degree Awarded
In 2013, 17 bachelor degrees were awarded to interior design graduate. Ten of the 17 degrees were Bachelor of Arts and seven were Bachelor of Science Degrees. This reflects an 81% completion rate of the students who entered the sophomore studio in Fall 2011. Over 90% of Interior Design students enter the program as transfer students.
Job Placement Rates
In 2013, 82% of interior design graduates were employed upon graduation. 53% of the graduating group was employed by residential designers, corporate designers, architectural firms, builders, or design retail. 29% were employed in non-interior design positions such as education, business and other retail. 12% of the group applied to graduate school and one student entered missionary work.
Acceptance into Graduate Programs
In 2013, 100% of the graduating interior design students who applied to graduate schools were accepted.
Student Projects Policy. The interior design program reserves the right to keep, display, and reproduce design projects and assignments submitted by students. Graded projects and assignments are the property of the department until they are returned to students.