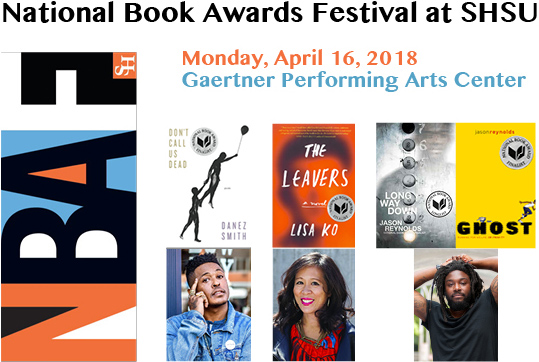 LUCIE BROCK-BROIDO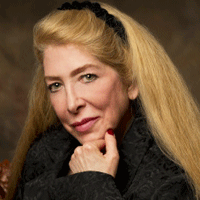 Photo credit Karen Meyers
Lucie Brock-Broido was born in Pittsburgh, was educated at Johns Hopkins and Columbia University, and has taught at Bennington, Princeton, Harvard (where she was a Briggs-Copeland poet), and Columbia. She is the recipient of fellowships from the National Endowment for the Arts and the Guggenheim Foundation, as well as awards from the American Poetry Review and the Academy of American Arts and Letters. She is Director of Poetry in the School of the Arts at Columbia University, where she was the recipient of the Presidential Award for Excellence in Teaching in 2013. Brock-Broido lives in New York City, and Cambridge, Massachusetts.
In an interview with Carol Maso for BOMB magazine in 1995, she says that her "theory is that a poem is troubled into its making. It's not a thing that blooms; it's a thing that wounds." This theory bears itself out in her collections, A Hunger (1988), The Master Letters (1995), Trouble in Mind (2004), and Stay, Illusion (2013), which often explore obsessions and anxieties (of influence, ritual, mortality, and modernity), and which use whatever is available to create vivid, sometimes disorienting, portraits of mind. Stay, Illusion was a 2013 finalist for the National Book Award.
Her poetry is also marked by its shifting syntax and diction, and the ability to sound entirely original while at the same time paying homage to her influences—themselves often the touchstones of her poems, as with Emily Dickinson and Wallace Stevens. In a review of Trouble in Mind for the New York Times, Maureen N. McLane describes Brock-Broido as always seeming "to approach her life as an allegorical one: alchemized . . . into poetry."
"Brock-Broido's poems can be baffling, but because of their stylish spookiness (some combination of Poe and Stevie Nicks) they are never boring." –Dan Chiasson, The New Yorker
"Ethereal and yet eerily precise, Stay, Illusion is a powerful new book of poems that offers a masterful attention to grief and a compelling empathy for those that remain behind. Trembling with an almost otherworldly language that is at once meticulous and fierce, Brock-Broido's poems open up the channels between the living and the dead, allowing for a hypnotic conversation that is as piercing as it is utterly breathtaking."
—2013 National Book Awards, Judges' Citation, Stay, Illusion
Her poems have appeared in many magazines and literary journals including The Paris Review, The New York Times, Parnassus: Poetry in Review, The American Poetry Review, Poetry, The Nation, The New Republic, Best American Poetry, and The New Yorker.
Stay, Illusion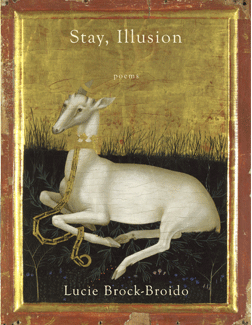 Stay, Illusion, the much-anticipated volume of poems by Lucie Brock-Broido, illuminates the broken but beautiful world she inhabits. Her poems are lit with magic and stark with truth: whether they speak from the imagined dwelling of her "Abandonarium," or from habitats where animals are farmed and harmed "humanely," or even from the surreal confines of death row, they find a voice like no other—dazzling, intimate, startling, heartbreaking.
Eddying between the theater of the lavish and the enigmatic, between the gaudy and the unadorned, Brock-Broido's verse scours America for material to render unflinchingly the here and now. Grandeur devolves into a comic irony: "We have come to terms with our Self / Like a marmoset getting out of her Great Ape suit." She dares the unexplained: "The wings were left ajar / At the altar where I've knelt all night, trembling, leaning, rough / As sugar raw, and sweet." Each poem is a rebellious chain of words: "Be good, they said, and so too I was / Good until I was not." Strange narratives, interior and exterior, make a world that is foreign and yet our own; like Dickinson, Brock-Broido constructs a spider-sibling, commanding the "silk spool of the recluse as she confects her eventual mythomania." And why create the web? Because: "If it is written down, you can't rescind it." (from the National Book Foundation)
Resources
An interview with Lucie Brock-Broido for Guernica Magazine
An interview with Lucie Brock-Broido, conducted by Carol Maso, for BOMB
Lucie Brock-Broido reading from Stay, Illusion, at the National Book Awards in November
An interview with Lucie Brock-Broido, conducted by the National Book Foundation