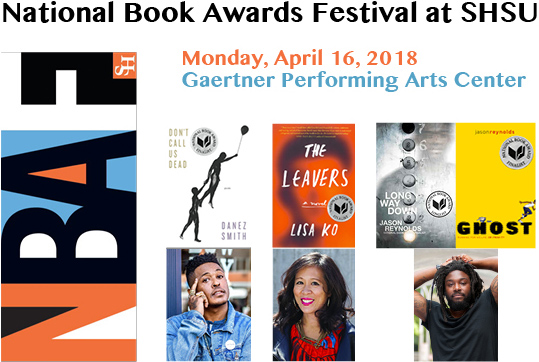 Monday, April 16, 2018
Gaertner Performing Arts Center
Sam Houston State University
Sponsored by the
MFA Program in Creative Writing, Editing, and Publishing, the College of Humanities and Social Sciences,
Office of Academic Affairs, the Office of Graduate Studies, and the National Book Foundation

About the National Book Foundation and the National Book Awards
The mission of the National Book Foundation and the National Book Awards is to celebrate the best of American literature, to expand its audience, and to enhance the cultural value of great writing in America.
The National Book Awards are among the most prestigious annual literary awards in our nation. The awards were established in 1950 and the first winners included Nelson Algren in fiction and William Carlos Williams in poetry. In brief, nearly every major American writer of the past sixty years has been honored by the National Book Awards, if not as a winner, then as a finalist.
Since 1996, independent panels of five writers have chosen the National Book Award Winners in four categories: Fiction, Nonfiction, Poetry, and Young People's Literature.
Contact
For more information, contact Dr. Amanda Nowlin-O'Banion, visiting professor of creative writing (nowlin-obanion@shsu.edu or 936.294.4109) or Dr. Scott Kaukonen, director of the MFA Program in Creative Writing, Editing, and Publishing (kaukonen@shsu.edu or 936.294.1407).
Photo Credits: Rep. John Lewis, by Ned Ahrens; Andrew Aydin, by Bob Adelman; Nate Powell, by Rett Peek.