UPCOMING EVENTS
---
Adrian Matejka
Monday, November 3 @ 6 p.m.; Austin Hall
Adrian Matejka was born in Nuremberg, Germany and grew up in California and Indiana. He is a graduate of Indiana University and the MFA program at Southern Illinois University Carbondale. His first collection of poems, The Devil's Garden, won the 2002 New York / New England Award from Alice James Books. His second collection, Mixology, was a winner of the 2008 National Poetry Series and was published by Penguin Books in 2009. Mixology was a finalist for a NAACP Image Award for Outstanding Literature – Poetry. His most recent book, The Big Smoke, was awarded the 2014 Anisfield-Wolf Book Award. The Big Smoke was also finalist for the 2013 National Book Award and for the 2014 Pulitzer Prize in Poetry. He is a winner of the Julia Peterkin Award and recipient of two Illinois Arts Council Literary Awards and fellowships from the Guggenheim Foundation and the Lannan Foundation. His work has appeared in American Poetry Review, The Best American Poetry 2010, Gulf Coast, Ploughshares, Poetry, and Prairie Schooner among other journals and anthologies. He teaches in the MFA program at Indiana University in Bloomington and is currently working on a new collection of poems and a graphic novel.
---

FICTION WRITER TO OPEN 2014-15 READING SERIES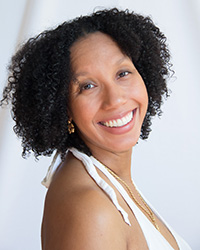 The Sam Houston State University Master of Fine Arts program in creative writing, editing, and publishing will welcome critically acclaimed fiction writer Tiphanie Yanique, who will read from her debut novel, "Land of Love and Drowning," on Monday (Sept. 22).
The opening presentation of the 2014-15 reading series, which is free and open to the public, will begin at 6 p.m. in Austin Hall.
"We see it as part of our mission as a program and as a university to continue to bring to campus a diverse range of talented writers, writers who will enrapture and thrill students with stories and language and ideas," said Scott Kaukonen, director of the MFA program. "Yanique certainly does that."
Chronicling three generations of an island family from 1916 to the 1970s, "Land of Love and Drowning" is a novel of love and magic, set against the political emergence of St. Thomas into an American territory.
Wholly unique, with echoes of Toni Morrison, Gabriel Garcia Marquez, and the author's own Caribbean family history, the story is told in a language and rhythm that evokes an entire world and way of life and love. It follows the Bradshaw family through 60 years of fathers and daughters, mothers and sons, love affairs, curses, magical gifts, loyalties, births, deaths, and triumphs.
April Shemak, associate professor of English, has taught Yanique's collection of stories, "How to Escape from a Leper Colony," in her senior-level Caribbean fiction class.
"For most of the students, this was the first time they had read anything by Caribbean authors," she said, "so we spent a good amount of the semester reading those writers who are now considered central to the field: George Lamming, Earl Lovelace, Jacques Roumain, Rosario Ferré, Merle Collins. Like these writers, Yanique engages with the complex historical and cultural elements that comprise the region: multiple racial, ethnic, and religious identities, the effects of migration to and from the region (with one story set in Houston), carnival, linguistic diversity, etc.
Representing a newer generation of Caribbean writers, "How to Escape from a Leper Colony" is "a beautifully crafted collection that is fresh and full of surprises such as a story situated around a precarious bridge that links the Caribbean, a symbol of the connections and disconnections between peoples and places in region and beyond," according to Shemak.
In many ways, the collection defies easy attempts at categorization; it traverses spaces in the U.S., Gambia, and different locations in the Caribbean through a myriad of shifting narrative perspectives; yet, coming from the Virgin Islands, Yanique's work is also unique in that she offers a perspective on the relationship between the United States and its territories.
"The works of earlier generations of writers often deal more explicitly with the legacy of European colonialism, independence movements, and nation-building, so it is interesting to read work that can be contextualized within the history of U.S. imperialism in the region, something that writers such as Junot Diaz have dealt with as well," Shemak said. "In her creative work and in interviews, Yanique challenges the perceptions of the Caribbean as primarily a tourist destination and instead demonstrates that it is an active site of ongoing intellectual and cultural production, a region that continues produce a thriving literature."
The BBC has described "Land of Love and Drowning" as a story of "shipwrecks, hurricanes, wartime and the roiling energies of love," while the Boston Globe wrote, "Yanique has set out to write the epic of this region and culture, and in fact this book deserves better than to be labeled with last-century publishing buzzwords."
BookPage listed Yanique as one of the 14 Women to watch out for in 2014. Her writing has won the 2011 BOCAS Prize for Caribbean Fiction, Boston Review Prize in Fiction, a Rona Jaffe Foundation Writers Award, a Pushcart Prize, and an Academy of American Poet's Prize.
She has been listed by the Boston Globe as one of the 16 cultural figures to watch out for and by the National Book Foundation as one of the "5 Under 35." Her writing has been published in Best African American Fiction, The Wall Street Journal, American Short Fiction and other places. Yanique is also the recipient of a Fulbright scholarship.
Yanique grew up in the Hospital Ground/Round da Field neighborhood of St. Thomas, Virgin Islands.
She graduated from All Saints Cathedral School and the Rising Stars Youth Steel Orchestra program. Yanique is now an assistant professor in the MFA and Riggio honors programs at the New School in New York City.
She lives with her husband, son and daughter. They split their time between Brooklyn and St. Thomas.
This fall, the MFA Reading Series will also include Ken Waldeman, Alaska's Fiddling Poet, and Adrian Matejka, a National Book Award finalist in poetry this past year. The spring semester will be highlighted again by the National Book Awards at Sam Houston, which will bring National Book Award finalists and winners to campus for a series of events.
SHSU Media Contact: Jennifer Gauntt, Scott Kaukonen