News Archive August 2008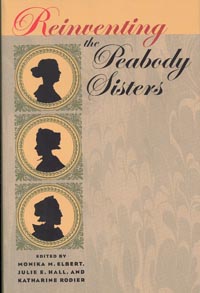 Reinventing the Peabody Sisters
Julie E. Hall, associate professor of English, has co-edited a collection of essays on the famous nineteenth-century New England sisters and writers, Elizabeth Palmer Peabody, Mary Peabody Mann, and Sophia Peabody Hawthorne. Titled Reinventing the Peabody Sisters and published in 2006 by University of Iowa Press, the volume's sixteen essays reenvision these significant writers and thinkers, reconsidering as well their confrontations with Transcendentalist thought, reform movements, the U.S. Civil War, changing views of women, African Americans, Native Americans, and individuals abroad. Individual essays consider, among other things, Elizabeth Peabody's transcendentalism and conversations; Mary Mann's novel Juanita and transcendental writing for children, The Flower People; and Sophia Peabody Hawthorne's collaboratively produced journal with famous husband, Nathaniel Hawthorne. Professor Halls' essay, "'At the Crisis of Our Fate': Sophia Hawthorne's Civil War Correspondence," examines two groups of unpublished archival letters authored by Hawthorne during the U.S. Civil War. According to Patricia Valenti, author of Sophia Peabody Hawthorne: A Life, Reinventing the Peabody Sisters"provides marvelous insights into the origins and the impact of mid nineteenth-century American art, philosophy, literature, education, and reform movements—a must-read for the student of these disciplines."
Chaucer and HDTV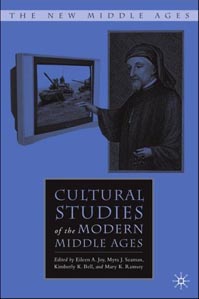 Assistant professor Kimberly Bell, along with Eileen Joy, Myra Seaman, and Mary Ramsey, has edited a new collection of essays, entitled Cultural Studies of the Modern Middle Ages (Palgrave Macmillan). The essays collected in this volume demonstrate that, when certain medieval and contemporary cultural texts are placed alongside each other, such as a fourteenth-century penitential handbook and the reality television show Survivor, they reveal certain mentalities and social conditions that persist over long durations of time. Several of the essays address overtly political subjects, such as political torture and suicide terrorism, while other essays attend to the various ways in which certain "real-life" fictions and cultural entertainments have always overdetermined our understanding of history, our current moment, and ourselves.
Dr. Bell herself provides the collection's opening essay, "Models of (Im)Perfection: Parodic Refunctioning in Spike TV's The Joe Schmo Show and Geoffrey Chaucer's 'Tale of Sir Thopas.'" Other sample essay titles include, "Back to the Future: Living the Liminal Life in the Manor House and the Medieval Dream Vision," by Betsy McCormick; "The Crisis of Legitimation in Bush's American and Henry IV's England," by Daniel T. Kline; and "Torture, Inquisition, Medievalism, Reality, TV," by Steve Guthrie. For more information, consult Palgrave Macmillan's website.
Professor Receives NEA Fellowship

Assistant professor of English Scott Kaukonen has been recognized by the National Endowment for the Arts as a recipient of the organization's 2008 Literature Fellowship in Prose, a $25,000 prize.

Kaukonen was one of 42 writers from across the nation selected for the fellowship out of more than 777 applicants.

"It's money to allow you to write. In my case, it'll allow me to take the summer off from teaching and focus solely on my writing, which is, quite frankly, invaluable," he said. "I'm currently finishing a novel, and so I'll likely be involved in revisions over the summer and/or starting a new project."

Kaukonen said the award is significant not only because of the money involved but because it's a highly-competitive fellowship that is ultimately decided upon by a jury of peers.

"There's a select group of established writers who read through all the anonymous manuscripts and whittle them down and then spend a weekend in (Washington) D .C. in a hotel conference room, reviewing the finalists and discussing the work and making the decisions," he said.

For his application, Kaukonen submitted his short stort story, "Punnett's Squares," from his collection of stories, Ordination. "Punnett's Squares" won the 2004 Nelson Algren Prize from The Chicago Tribune, while the collection won the 2004 Ohio State Prize for Short Fiction.

"From a personal standpoint, it's the kind of external validation that balances the, it seems, inevitable insecurities that can surround your own work as a writer--all that time you spend alone, writing, creating, doubting, battling your own fears, hoping your work is doing what you intend for it to do," he said.

Kaukonen is currently completing his first novel, The Martyrdom of Katie Deeds.