Tokyo, Japan - July 3 - July 25, 2014 (Summer II)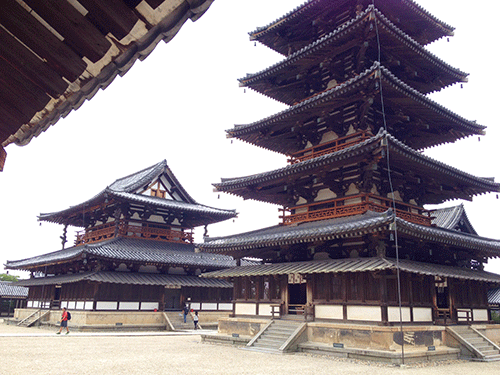 Benefits
It is a lifetime opportunity

To experience and learn about the rich Japanese culture.
To get an exposure to Japanese economy and businesses
To visit historic sites and learn about Japanese history

It will enhance your career opportunities. Your exposure to Japan and, in particular, to Japanese business environment will be an attractive credential for many jobs that require an understanding of global business environment.
To Participate
Space is very limited - we only have accommodations for 16 students.
Minimum requirements: GPA of 2.75 9 (For the COBA scholarship, the minimum GPA is 3.0) and completion of ECON 2301 or ECON 2302.
Program Details
Our housing accommodations (tentatively): http://www.sakura-hotel.co.jp/jimbocho
Questions? Contact:
Dr. Mark W. Frank: Email: markfrank@shsu.edu | Call: 936.294.4890 | Visit: SHB 237-K
Office of International Programs | Call: 936.294.4737 or 936.294.4611 | Visit: Farrington Building
---
February 7th (Friday)
Deadline for Early Bird Sign-Up Special of only $100. After 2/7 the sign-up will be $200.
February 28th (Friday)
Last day to sign up for 2014 Japan Study Abroad Program for $200 sign-up fee.
March 7th, (Friday)
Deadline for first payment of $800
March 20th, (Thursday)
Orientation Meeting – 3:30 to 4:30 pm. Location TBA.
May 2nd, (Friday)
Deadline for final payment of $800.
July 3 – 4
Travel to Tokyo, Japan.
July 24 – July 25
Return flight to Texas.
Estimated Costs: $1900*
$1600 program fee + sign-up fee ($100 or $200, see schedule for early bird prices)
plus tuition for 6 SHSU credit hours and airfare (approx. $1,700 - 2,500 for a Houston-Tokyp roundtrip flight, depending on time and booking and airline). This cost estimate includes housing accommodation for the duration of the trip, arranged field trips, and arranged guest lectures.
*This is the early-bird special. If you sign up after February 8, 2013 - you will pay $2,100
Scholarships
There are two scholarship opportunities for this program
The College of Business Administration (COBA) gives scholarships to all current business majors to go on this study abroad program. Eligible students will received between $1000 and $1600, depending on their SHSU GPA.
The Office of International Programs (OIP) gives merit-based scholarships to eligible students. Funding is limited, and awards are given on a first-come-first-serve basis! See the OIP Scholarship webpage for details.
Other Information
You will be able to use your financial aid to pay for the courses offered in this program.
Our housing accommodations (tentatively): http://www.sakura-hotel.co.jp/jimbocho
What you need to do Checklist:
Talk to Dr. Frank to let him know you want to sign up.
Pay the sign-up fee of $100 by February 7, 2014, or $200 between February 8 and February 28 directly to the Bursar's Office in the Estill Building. Tell the Bursar's staff you are paying for Summer II Study Abroad - Japan 2014
Apply for OIP and COBA Scholarships
Forms You Will Need to Fill Out (found online at the bottom of this page):
Application Health Release
Behavior Contract
Financial Resposibility
Emergency Contact
Proof of Health Insurance
Get your passport by April 1, if you do not already have one. If you are an American citizen, you will not need a visa to go to Japan. If you do not hold an American passport, please visit:Consulate-General of Japan in Houston to determine if you would need a visa.
Make payments before the two payment deadlines
Sign up for the two summer classes.
Courses Offered
ECON 3341: Comparative Economics Systems*
The focus of this course will be the evolution of the capitalist economic system in Japan. In particular, it will discuss the economic history of Japan since the beginning of the seventeenth century until the beginning of the World War II, and the economic growth and business cycle fluctuations during the post-war period. It will also include discussions on the financial system and monetary policy, industrial structure and policy, public finance and fiscal policy, and international trade and finance in Japan. Finally, this course will discuss some of the distinctive features of the Japanese economy that are related to the savings behavior, the labor market, and marketing
BAUD 4380: Problem in Business: International Perspectives*
This course will focus on issues of international importance that relate to Japan and the U.S. The specific topics will include trade and capital flows between Japan and the U.S., the recent global financial and economic crisis and policy responses in Japan, restructuring of Japanese economy and businesses in the face of crisis and lessons for other advanced economies, and the adoption of technology and organization of production in Japan in the context of globalization.
The classes will comprise lectures by the instructor, invited scholars from Japanese academia, businesses, and governments; and visits to historical and business sites.
*If you have taken these classes or you need to take other business electives, these courses can be substituted for other 3000/4000 level economics and other business classes.