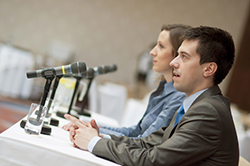 The Department of Economics and International Business presents Seminar Series, a collection of seminars that are designed to promote dialogue on relevant topics involving the economy. Its purpose is to promote discussion on topics beyond the classroom.
The seminars are open to the public and all faculty are invited to attend.

Fall 2014
Thursday, September 11
3:45 - 4:45 PM
Smith-Hutson Building, Room 135
The Precautionary Principle and emissions taxes under time-varying model mistrust of the pollution stock dynamics.
Fidel Gonzalez, PhD
Sam Houston State University
---
Thursday, September 25
3:30 - 4:30 PM
Smith-Hutson Building, Room 135
The Effect of a Natural Disaster on the Incidence of Miscarriages, Stillbirths, and Pregnancy Outcomes

Elaine Liu, PhD
University of Houston
---
Thursday, October 16
3:30 - 4:30 PM
Smith-Hutson Building, Room 135
Enforcing the Clean Water Act: The Effect of State-level Corruption on Compliance
Katherine Grooms, PhD
Southwestern University
---
Wednesday, November 4
3:30 - 4:30 PM
Smith-Hutson Building, Room 135
Technical Efficiency of Paddy Farming and its Determinants in the Flood Plains of Assam, India
Aditi Bhattacharyya
Sam Houston State University
---
Tuesday, November 18
3:30 - 4:30 PM
Smith-Hutson Building, Room 139
Targeting with High Priority Violation Policy: An Empirical Analysis
Lirong Liu, PhD
Sam Houston State University
---
Spring 2015
Thursday, March 19
3:30 - 4:30 PM
Smith-Hutson Building, Room 135
TBD
Lorens A. Helmchen
George Mason
---
Tuesday, April 14
3:30 - 4:30 PM
Smith-Hutson Building, Room 135
TBD
Christian Raschke, PhD