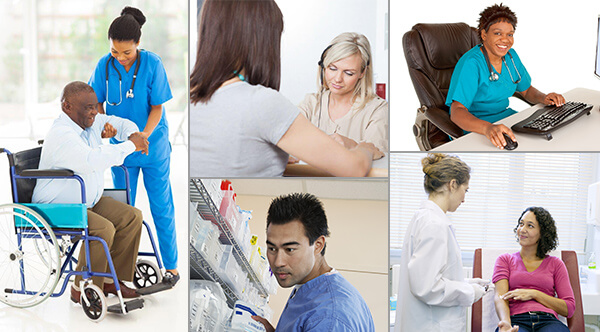 Attention:

Payment plans now available for Allied Health courses. See Tuition & Fees for details.
Overview
Designed to meet your professional goals, Continuing Education offers a variety of Allied Health courses on-campus.
View upcoming course dates.
Registration for Fall 2017 is open. For registration instructions, visit our How to Register Guide.
The purchase of a parking permit ($35.00) may be required.
Course Descriptions
Certified Nurse Aide (CNA)

In this 100 hour training program, students will learn ways to meet the physical, psychological and emotional needs of patients. Classroom instruction includes education and skills development in communication and interpersonal skills, infection control, safety-emergency procedures, residents' rights, personal care skills, basic nursing skills, mental health and social needs, care of cognitively impaired residents and basic restorative services. The clinical experience will take place in a long-term care setting. Successful completion will qualify students to take the national certification examinations.

Prerequisites: 18+ years of age. High school diploma or GED.

Cost includes tuition, stethoscope, and textbooks. Certification exam fee not included.

Dental Assisting

Coursework prepares students for entry level positions in one of the fastest growing health care positions. The purpose of this course is to familiarize the student with all areas of pre-clinical dental assisting and provide training in the professional skills required to function as an assistant in the dental practice. In addition to entry-level administrative jobs, this course is ideal for students interested in pursuing a future formal dental hygienist program. This program includes national certification opportunities for students.

Prerequisites: 18+ years of age. High school diploma or GED.

Cost includes tuition and textbooks.

Dialysis Technician

This program provides students with the knowledge and skills needed to perform the duties required of dialysis technicians. Under the supervision of physicians and registered nurses, dialysis technicians operate kidney dialysis machines, prepare dialyzer reprocessing and delivery systems as well as maintain and repair equipment. Furthermore, technicians work with patients during dialysis procedures and monitor and record vital signs as well as administer local anesthetics and drugs as needed. Dialysis technicians must also assess patients for any complications that occur during the procedure and must be ready to take necessary emergency measures including administering oxygen or performing basic cardiopulmonary resuscitation. This program does not include national or state certification as part of its overall objectives.

Prerequisites: 18+ years of age. High school diploma or GED.

Cost includes tuition.

EKG Technician




This 70 hour program provides instruction in EKG unit operation and troubleshooting, lead placement utilizing 12 lead EKG, use and understanding of EKG grid paper, recognizing normal and abnormal EKG patterns in all 12 leads and plotting EKG axis.

Upon successful completion of the program, graduates will receive our Certificate of Completion. Additionally, graduates will be qualified for the optional certification examination offered by the National Center for Competency Testing (NCCT) and the National Healthcareer Association (NHA).

Prerequisites: 18+ years of age. High school diploma or GED.

Cost includes tuition, textbook, and materials.

Medical Administrative Assistant

Medical administrative assistants, medical secretary, and medical records clerks are all positions in great demand. This program prepares students to function effectively in many of the administrative and clerical positions in the healthcare industry. This program covers important background information on the medical assisting profession and interpersonal skills, medical ethics and law, medical terminology, basics of insurance billing and coding, telephone techniques, scheduling appointments, medical records management, and management of practice finances. Intended to provide students with a well-rounded introduction to medical administration so a student can gain the necessary skills required to obtain a medical administrative assistant position in the healthcare field.

Prerequisites: 18+ years of age. High school diploma or GED.

Cost includes tuition, textbooks, and materials.

Pharmacy Technician

This comprehensive program prepares students to work as a pharmacy technician in a retail pharmacy or other pharmacy setting and to take the Pharmacy Technician Certification Board's PTCB exam. Course content includes pharmacy medical terminology, the history of pharmacy, the pharmacy practice in multiple environments, pharmacy calculations and measurements, reading and interpreting prescriptions, and defining drugs by generic and brand names. Through classroom lecture and hands on labs, students will review dosage calculations, drug classifications, the "top 200 drugs", I.V. flow rates, sterile compounding, dose conversions, aseptic technique, the handling of sterile products, total parental nutrition (TPN), dispensing of prescriptions, inventory control and billing and reimbursement.

Prerequisites: 18+ years of age. High school diploma or GED.

Cost includes tuition, textbooks, and materials. National certification exam fee not included.

Phlebotomy

The course includes history of phlebotomy, legal, ethical and regulatory issues, basic anatomy and physiology, infection control, laboratory safety, circulatory system, specimen handling and processing, blood collection equipment, blood collection procedures, complications associated with specimen collection, special collection procedures, and departments of the laboratory. Students will be required to successfully complete a clinical rotation of 120 hours within the hospitals, clinics and perform a minimum of 50-100 successful blood collections. Students will receive 120 classroom instruction (didactic and laboratory) hours.

Prerequisites: 18+ years of age. High school diploma or GED.

Cost includes tuition and textbook. Certification exam fee not included.
Program Breakdown
Degree Type
Certificate of Completion
Enrollment
Fall, Spring, Summer