Beta Gamma Sigma
Honorable Mention - 2007 Outstanding Chapter Award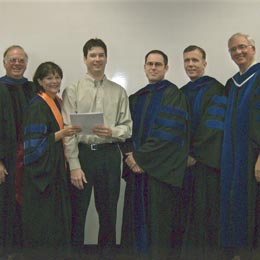 Founded in 1913 to honor academic achievement in the business disciplines, Beta Gamma Sigma is an international business honor fraternity with rigorous membership standards. To be invited into Beta Gamma Sigma, a student must rank in the top 7% of his or her class if a junior, the top 10% if a senior and the top 20% if a graduate student. A nominee must also demonstrate the personal characteristics exemplified by the organization's name: integrity (Beta), wisdom (Gamma) and enthusiasm for learning (Sigma).
Invitations to join are kept secret until a Beta Gamma Sigma representative, dressed in academic robes, "taps" the inductees in front of fellow classmates during selected class periods. Once all the tapping ceremonies are completed, the chapter hosts an afternoon reception in honor of its newest members. An evening banquet is held late in the spring to recognize and honor all new and continuing members.
The Sam Houston chapter received Honorable Mention for the 2007 Outstanding Chapter Award. This places our chapter among the top six of 456 member chapters.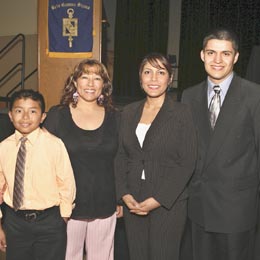 For more information about the fraternity and the benefits of membership, please contact Dr. Mark Tuttle at (936) 294-1386 or log on to the national fraternity's website atwww.betagammasigma.org.
Membership Acceptance Form
Please return this form to Dr. Mark Tuttle(SH 237H). If you are in a SHSU computer lab, you can complete and email the form to mht001@shsu.edu.
Banquet Reservation Form
If you wish to attend the banquet, please complete and follow the directions at the end of this form.