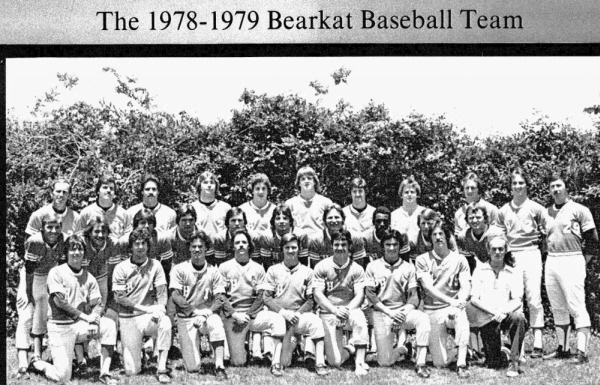 Pitcher Nathan Partain is front row, third from the left
A Series of Winning Seasons: Nathan Partain Still Top Pitcher

In the late 1970s the discipline and timing displayed by Bearkat baseball All-American Nathan Partain BS '79, MBA '81 was evident, enabling him to rack up four varsity letters in baseball and two SHSU pitching records that hold to this day. His 12-1 victory record for 1979 is still the best Bearkat season record for pitching, and his 19-2 career record is still the best career winning percentage ever for SHSU baseball.
Nathan's discipline and timing have been evident off the field, too. After hanging up his cleats and graduating from the College with a master'sdegree in business administration in 1981, he accepted a position as financial analyst in thetreasury department of the Gulf States Utilities Company. From there he moved up to senior budget analyst for the River Bend Nuclear Project and then on to become the Texas director of regulatory affairs for FERC, the Federal Energy Regulatory Commission.
Today Nathan is a chartered financial analyst and works in downtown Chicago as president and chief investment officer for Duff & Phelps Investment Management Company. He has held several key positions during his 19 years with Duff & Phelps, including president and chief executive officer of that firm's select income, utility and corporate bond, and tax-free income funds; executive vice president for investment management; and director of utility, equity, and fixed income research.
Paul Ridings, SHSU's assistant athletic director for media relations, is not surprised by Nathan's success. "Many of our athletes go on to establish successful business careers," he states. "During Nathan's baseball career here at Sam, he pitched 172 innings, allowed only 57 walks and 79 earned runs, and struck out 109 hitters. His 903 winning percentage is still SHSU's best career percentage. We've had a lot of great players through the years and Nathan was definitely one of them. His record speaks for itself."
When not at the office, Nathan serves on the board of directors of the Otter Tail Corporation, an electric utility with operations throughout Minnesota and North and South Dakota, and is a member of the CFA Institute and CFA Society of Chicago. He and his wife Kristine have three children: Matthew, a sophomore at College of the Holy Cross; Mark, a high school junior; and Madeline, who is in the eighth grade.
For more information about this article, please contact the author: Margaret Quarles at (936-294-4997).